Increasing Charitable Contributions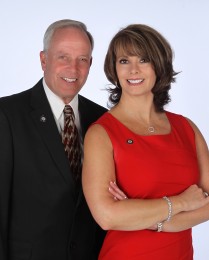 Before joining the Ambit team, Beth and Greg both held steady jobs of their own. Beth worked in corporate America as the owner of a brokerage/consulting firm, while Greg served for 30 years in law enforcement with Chautauqua County Sheriff's Office as a deputy sheriff.
However, 15 years ago, Greg was diagnosed with rheumatoid arthritis, progressing to the point that there was a concern as to whether or not he could continue to perform his duties as a deputy sheriff. "Even though after 30 years of law enforcement, retirement was not an option for us as we were not ready to change our lifestyle." said Greg At age 26, Beth was diagnosed with a rare neuromuscular disease, myasthenia gravis. She was told that she would be in a wheelchair within five years and was handed disability papers.
Despite this news, Beth forged ahead and continued to work. She also ran half marathons and stayed as active as she could. Two years ago, however, she was diagnosed with a blood cancer called multiple myeloma. "Unfortunately, the two diseases have become a huge challenge in my life and it has become necessary for me to receive treatments to hopefully subdue the progression of both." said Beth.
Discovering Ambit
After one of Greg's co-workers shared the Ambit website with him, the couple saw the Ambit business opportunity as a way to reach retirement and to allow them to maintain their current lifestyle.
"Our goal was to be able to get Greg to retirement within 2 years, and within 18 months we were producing enough income with Ambit to allow Greg to retire," said Beth.
Since Beth's business is set up with residual income already, her goal was to buy back her time so she could concentrate on her health and enjoy the rest of her life. "Within 18 months Ambit had also allowed me to leave the corporate world which allowed me to buy my time back," said Beth. "I do not wake up to an alarm clock any more!"
Working their business
Since the beginning, Beth and Greg's friends and family have been very supportive of the couple's endeavors. Their biggest challenge is maintaining momentum during Beth's treatments, as she is down for two weeks at a time.
Beth and Greg have learned that the two most important aspects of the Ambit business are learning how to become a "master inviter" and how to overcome objections.
Looking ahead, Beth and Greg imagine themselves working towards NC and earning "the yellow jacket" as they continue to help others reach their goals.
"Ambit has allowed us to become financially free and increase our charitable contributions. Our time freedom has allowed us to give back to the community and the ability to donate more charitable foundations. The biggest gift is knowing that we were able to help a family in need that was not able to provide a Christmas for their family.. " said Beth & Greg.
Our "Why":
Retirement & financial freedom
Time spent working the Ambit business:
When we first started in Ambit we spent 15–30 minutes a day inviting people to take a look at the opportunity and attended two local BP's a week. As our business grew and new markets opened, we quickly realized what we had our hands on and knew the more time we dedicated to building our business and helping others would only benefit us in the long run.
What was your single most-effective Success Tool, factor or influence for growing your business?
Using the Magazine with the DVD for one-on-one's and home meetings
Name your favorite thing about AMBITION:
Bonuses and announcements of course….but the time learning from others.
Thanks to the five SCs who helped in the journey to becoming an Executive Consultant:
John and Billy Jean Hubert, Sarah Hallberg, Rhonda Callan, Casey Stoll and Joe Justka
---
Featured Consultant
At Ambit Energy, we're inspired, proud, and even awed by the success stories we hear from our Consultants every day. Learn what motivates some of our top Consultants, read why they decided that Ambit was the right company at the right time, and maybe even pick up some inspiring tips to help you build your own business and achieve a similar level of success!