Information Technology Couple Gets the Word About Ambit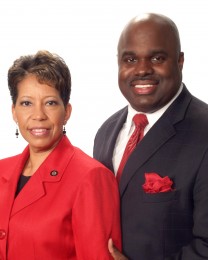 Julius and Shellie Weems are both executives in the Information Technology industry, working on major software projects for the government, major entertainment companies and Fortune 500 corporations. Their work means lots of 12-15 hour days, with very little spare time left for each other, and for their son, Jabari.
After years of building their careers, the Weems both found themselves wanting to consider new business opportunities—Julius was especially concerned that happiness meant having more time to enjoy with his family. One day, after a round of golf, Julius' best friend Al Jackson asked him about looking into options for making additional streams of income. He then shared the Ambit opportunity with Julius & Shellie and asked them take a look at it. While the Weems were skeptical, they agreed to attend a presentation in Greenbelt, Maryland.
"Shellie and I were thoroughly impressed by the information and professionalism of the presenters," Julius says. "The real eye-opener was that 80 percent of the people at the meeting were from outside Maryland. That made us realize that this is something we should give some real thought."
Setting Goals, Exceeding Expectations
The Weems did a lot more than just think. They decided to commit three-to-five hours a week for six months to their new Ambit business to see if it would work. In two weeks, they were Regional Consultants, and within two months they were Senior Consultants.
"With Ambit, we see a vehicle that can provide us with a way to enjoy our family and achieve many of our dreams. We have regained control of our time, and have the opportunity to do many of the things we had to sacrifice doing when we were working in IT," Shellie says.
In fact, the couple is so dedicated to their success and the success of others that they invested in the Maryland Training Center. Here, all Consultants in the Maryland area can attend leadership and training events, regardless of who their sponsors are.
These exceptional efforts have paid off, too. The Weems have been featured in Home Magazine and received the Pure Energy Award at AMBITION in 2011.
Information You Can Use
The Weems have some ideas about what helped them become the first Executive Consultants in Maryland. Julius says "We approach being professional network marketers just like we approached being professional IT engineers. That means attending networking and training events, investing in self-development tools and resources and becoming certified leadership trainers so we know how to train our Ambit team."
By investing their time up front and developing a strong, systematic way of managing their Ambit business, the Weems have retaken control of their time, their dreams and their finances, setting a great example for anyone who wants to achieve with Ambit.
Our "Why?"
To spend family time daily and to retire Shellie while nurturing our son before he goes to college. We want our life back from the corporate rat race.
Time spent working the Ambit business?
We create a weekly plan that details the calls we will make, meetings, FAMILY TIME, FUN TIME, follow-up. We then hold each other accountable on the progress that we make each week.
What was your single most-effective Success Tool, factor or influence for growing your business?
We have an amazing group of leaders and could not have achieved all that we have without them! Success-Tool has to be the SFH Magazine. We NEVER leave home without them.
Name your favorite thing about AMBITION.
The ability to be around motivated people, truly and genuinely interested in you achieving success, and just as motivated as you are to be successful and great in this business!.
Thanks to the five SCs who helped us reach EC.
Canina Anderson, Sharon Myrick, Mark & Shantee McPhee, Donna Harris, and Peter Esveld
---
Featured Consultant
At Ambit Energy, we're inspired, proud, and even awed by the success stories we hear from our Consultants every day. Learn what motivates some of our top Consultants, read why they decided that Ambit was the right company at the right time, and maybe even pick up some inspiring tips to help you build your own business and achieve a similar level of success!