Initial Reservations Turn to Excitement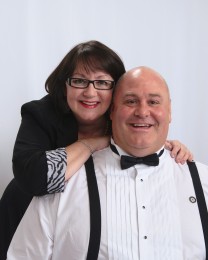 Initial Reservations Turn to Excitement
Mark and Vicki Walker almost passed on the opportunity of a lifetime. Mark had recently left his job in airlines reservations to sell insurance, and Vicki was working for a large engineering firm in Houston. They'd both tried various network marketing companies and decided they would never try one again. But with the down economy impacting the insurance business, Vicki decided to attend an Ambit presentation. "Then, as I was walking out the door, I remembered another commitment at the same time," Vicki says. While her husband agreed to go in her place, she says "Mark was extremely upset that I'd coerced him into attending another one of 'those' presentations."
"I took an aisle seat for a quick exit, folded my arms and hoped it would be over quickly," Mark admits. "But what I heard and saw at the presentation made sense!"
After a few weeks, the Walkers made their decision. "We jumped in with both feet."
Slowly but Surely, Ambit Takes Off
At first, the Walkers hoped to make a couple hundred dollars a month, based on their previous experience with network marketing. Mark believed in Ambit, but was less sure of his own abilities. Still, he and Vicki were committed. They held a yard sale to raise money to start their business. They attended as many trainings, Power Trips and other events as they could, often staying at cheaper motels and cutting back on other expenses to pay for their trips. They also looked outside the Texas market, and built up a network of Consultants and Customers. "We had to make money right from the start," Vicki says.
The Walkers rose through the ranks, reaching the level of Senior Consultant.
Seeing Setbacks as Motivation
Just as Mark and Vicki were starting to hit their stride, they suffered a series of setbacks that might have prevented a less dedicated couple from succeeding. First, Mark was injured and unable to work for several months. Then Vicki lost her job. A series of family deaths occurred and, just as the Walkers looked like they were going to become Executive Consultants, Vicki suffered a stroke.
"We realized the more we focused on the challenges, the more they became excuses. We made a conscious decision to use our challenges as motivation," Mark says.
Flying Higher and Higher
Their new philosophy paid off. Mark and Vicki earned a spot on the A-List, and are frequently asked to speak at trainings and events around the country. Mark spoke at the first Simulcast in 2011, and Vicki has been featured at the Women Empowering Women Conference.
They've introduced their own "Step 8" program, an extension of the Seven Steps of Success in Ambit, to help train their Consultant team. They have also learned the power of perseverance, teamwork and the Ambit system.
Inspiring Advice
The Walkers advice is simple. "Apply immediate action, plug into the Ambit system, and never, never, never give up!
"A few years ago, our future seemed very bleak. When the odds were against us, we never quit. Now we are excited about our future, who we are becoming as individuals, and we know financial security and independence are within reach."
Five EC Pieces
Our "Why":
We want a better lifestyle for our family, finally free from financial worry. We have five children (and four grandchildren), living in five states! We need to see them more often!
Time spent working the Ambit business:
We have been building our Ambit business on a part-time basis for 5-1/2 years.
What was your single most-effective Success Tool, factor or influence for growing your business?
Since much of our business has been built out of the area, we use the online video more than any other tool.
Name your favorite thing about AMBITION:
We love the interaction with other Consultants—having the chance to talk with and learn from other, more successful Consultants, and seeing friends that we've made over the years again.
---
Featured Consultant
At Ambit Energy, we're inspired, proud, and even awed by the success stories we hear from our Consultants every day. Learn what motivates some of our top Consultants, read why they decided that Ambit was the right company at the right time, and maybe even pick up some inspiring tips to help you build your own business and achieve a similar level of success!