Insuring a Better Future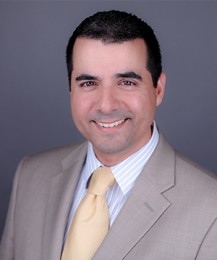 After two years as a band director in Frisco, Texas, Jarrad Abshire embarked on a new career in insurance sales. In an effort to build up his business, he joined a number of professional networking groups. That's where he met Mary and Richard Amoedo, who introduced him to Ambit.
"I asked Mary Amoedo to tell me what she was doing and she peaked my interest enough to go to the next business presentation. I was so impressed with the leadership of the company. I knew the people behind Ambit were very experienced and the concept of electricity made me feel really comfortable." Since joining Ambit in 2009, Jarrad and his wife Amie have set some goals for their future. "We are building this business so we can both raise our future children together as stay-at-home parents and we also want to devote more time to ministry at our church."
Discovering success
Jarrad was a little slow to discover the power of Ambit. "I was still sticking with insurance and I was also involved with some musical organizations as well. I was just too busy to really see what was possible with Ambit. I didn't really understand the vision of the company and what was truly available for our future until my first trip to Ambition in 2010."
After about 18 months, Jarrad was able to devote himself full-time to his Ambit business. "Working from home is an absolute blessing, but I really look forward to allowing my wife to retire from her full-time job. She is one of the hardest working people I know and I am so thankful for her unwavering support in this business."
More than money
"I am amazed at what we as consultants get paid. I have been able to outperform what I would have earned after 30 years as a band director. Beyond that, I am focused on helping others achieve what they want in Ambit Energy. I truly believe that success in Ambit is heavily related to how much you and your team are able to plug into the Ambit system."
Jarrad has some important advice for new Ambit consultants, too. "Sometimes, other people just need a little extra attention and compassion. The moment I started to do that the momentum kicked in!"
The Power of AMBITION
"Every consultant needs to be at AMBITION. It's all about raising your personal belief in yourself and the vision of the company. The business is built from event to event. If no one is following you, you're just on a walk." Now, as full-time Ambit Executive Consultant, Jarrad and Amie see a brighter future for both the company and themselves. Jarrad says "I see us and both our parents retired and 100% debt-free. I see Ambit as the largest direct-selling company in the world, helping tens of thousands of people achieving their full potential and becoming financially free.
"As they say, 'the team work really does make the dream work.'"
My "Why?"
My wife and I are building this business so we can both raise our future children together as stay at home parents and also we want to devote more time to ministry at our Church.
Time spent working Ambit
20 - 30 hours per week
Most-effective Success Tool, factor or influence for growing the Ambit business.
"The free mentoring program. Being coachable and taking action, even when it doesn't look like it's going to work, has been the key for me."
Favorite thing about AMBITION.
Ambition raises your belief level about what you can achieve on a personal and financial level.
Thanks to the five Senior Consultants who helped us become an EC.
My parents Maria & Paul Abshire, Julian Placino, Joshua Reyes, Carlos Reyes, & Kristi & George Pittman.
---
Featured Consultant
At Ambit Energy, we're inspired, proud, and even awed by the success stories we hear from our Consultants every day. Learn what motivates some of our top Consultants, read why they decided that Ambit was the right company at the right time, and maybe even pick up some inspiring tips to help you build your own business and achieve a similar level of success!