Invested in Career and Family
Mari Yuro, Executive Consultant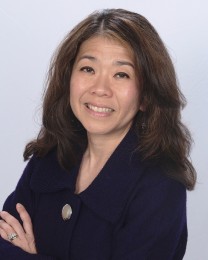 Mari Hirai Yuro worked in financial services for 12 years, advancing to the level of Vice President at the firm where she worked before leaving to start a family with her husband, Adam. After leaving Wall Street, Mari threw herself into volunteering in her community and raising her family, especially her son who has Aspergers and ADHD. While her volunteer work was rewarding, she wanted to be able to provide a higher level of financial support for her daughter and son without having to work outside the home.
That's when she heard about Ambit from her friend, Kim Savino. Mari watched the video, did her own extensive research on the company and attended another presentation in Yonkers before committing. "What impressed me most was the business as its most fundamental—showing my friends and family a way to save on a bill they must pay and earning income from that process," she says. "And the timing was exciting—getting in on the ground floor of a business whose potential market was more than massive!"
Managing Expectations And Success
"I knew this business would take time to develop. While I needed to start earning again, the situation was not dire, so I knew I had the luxury of time." Since she had little experience selling things, Mari needed some time to develop her confidence in her sales skills. "By far my biggest challenge has been my belief in myself to be successful at this kind of thing," she says. "Overcoming this challenge is a work-in-progress. My way to keep moving ahead is to stay connected to other leaders who inspire me, to revisit the growth and progress of the company and to work on myself by reading, listening and putting myself out there for my team and my family."
For Mari, developing her own strengths has helped her become a mentor to others. "Each of us have real talents and strengths that may not be obvious but can be discovered and brought forth with patience and encouragement," she says.
Back To Work, Looking Forward To More Success
Going back to work with her Ambit business has really made a difference for Mari. "I am thrilled about what awaits me, my family and the entire Ambit family. My family and friends can see how Ambit has impacted our lives when they see the financial stress is gone from my husband's and my demeanor."
She plans to continue growing her business "I want to do what I've been doing, but better. I want to create many ECs. I want to spend more time helping Consultants."
For those just starting their own Ambit business, Mari recommends, "plug into the system of trainings available to learn the fundamentals of building this business. Then employ what you have learned. Call your upline and ask time and time again for their help—don't be shy. Success will come."
After all, as an experienced financial analyst, Mari knows a winner like Ambit when she sees one.
My "WHY":
Hands down, my children and my husband. Looking into each one of their gorgeous faces and knowing their future is secure. Knowing that my special needs son will have options for therapies, schools, social activities because of Ambit and the income it is providing. Knowing my brilliant 17-year old daughter can go to any college she wants to go and come out debt-free. Knowing my hard-working, wonderful husband can retire from teaching after 30 years and spend his time volunteering to make public education better.
Time spent working the Ambit business:
7-8 hours doing presentations for my team , 5 hours a week with administrative aspects of keeping my organization moving, and 2-3 hours spent "plugging in" through conference calls, web trainings, live trainings
What was your single most-effective Success Tool, factor or influence for growing your business?
Having respected, trusted, accomplished people join my organization.
Name your favorite thing about AMBITION:
Having the opportunity to meet and talk with all the incredible leaders who have built impressive organizations!
Thanks to the five SCs who helped in the promotion to Executive Consultant.
Gil and Cherry Manalo, Connie Villaluna, Edwin and Dory Dolores, Astor and Janet Chin-Lyn, and Leticia Betz
---
Featured Consultant
At Ambit Energy, we're inspired, proud, and even awed by the success stories we hear from our Consultants every day. Learn what motivates some of our top Consultants, read why they decided that Ambit was the right company at the right time, and maybe even pick up some inspiring tips to help you build your own business and achieve a similar level of success!