It Started with a Napkin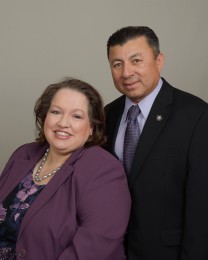 For Jose and Leticia Castro, the path to Financial Freedom began with an invitation to lunch from an old friend. "My husband met him during his lunch hour, and our friend wrote out the compensation plan on a napkin. We still have that napkin." Although the Castros were impressed with Ambit Energy and signed up, they didn't really start to work their business. Both of them held demanding jobs, and they had two sons to care for. "Our oldest son, Jose, is hearing impaired, and our second son, Jaime, has dyslexia," Jose says.
Eventually, though, they started to show the plan. Additionally, they received support and guidance from other Ambit Consultants. "Our upline came to our home to give us support and guidance," they say. And once the Castros started to work the system, they saw results—the couple made Regional Consultant in just one month and Senior Consultant in three months.
Setting the Table for Success
At first, the Castros focused on reaching out to the local Hispanic community. They learned that building trust, even among their family and friends took time. It was also a challenge to build their self-confidence and ability to show the plan. They were challenged by figuring out how to balance their work, family and business schedule as well. "At first, it was difficult, but once we saw our residual income growing we knew we had to find the rhythm to persists," Leticia says.
As a result of their own early struggles, the Castros are particularly dedicated to training and support. They have instituted generalized training sessions in Spanish for Consultants, as well as establishing "Energia de Mujeres," for Spanish-speaking women Consultants. While they are active in bringing the Ambit Opportunity to other Hispanics, their organization has grown to include people from all walks of life, all working to help each other succeed.
Cleaning Up
In the beginning, the Castro's goal was to be able to help both their sons get the extra support and encouragement they needed to succeed at school. Having achieved that milestone, they see even more good things in their future. "We are going to start traveling to open new markets, train more often and organize cross-organization trainings," the couple says. They are also excited that Juan, who is about to start college, has decided to join them as an Ambit Consultant. "We want to teach him how to build his own business so he can have a residual income."
The couple also wants to continue their leadership role among Ambit's growing number of Spanish-speaking Consultants. "We would like to organize a Spanish-speaking Power Trip," they say, as well as other trainings and opportunities. They've also set themselves the goal of building an organization of 100 Executive Consultants in the next 10 years.
Not a bad plan, considering it all started on a simple napkin.
Five EC Pieces
My/ our "Why?"

Our why is to provide our sons the best education possible and help as many people along the way.

Time spent working my/ our Ambit business:
We have been doing Ambit part-time for several years and have persistently reached our goals.

What was your single most-effective Success Tool, factor or influence for growing your business?
The invitation and the follow-up have been the most influential tool to growing our business.

Name your favorite thing about AMBITION:
Our favorite moment at Ambition is when Chris and Jere set the path for the future, Chris's message is always inspirational.

Thanks to the five SCs who helped me/ us reach EC.
We would like to thank Diana and Frank Rodriguez, Pedro Torres, Araceli and Arturo Mora, Pedro and Imelda Perez, and Ana Casares with their hard work and dedication to their business we will all succeed.
---
Featured Consultant
At Ambit Energy, we're inspired, proud, and even awed by the success stories we hear from our Consultants every day. Learn what motivates some of our top Consultants, read why they decided that Ambit was the right company at the right time, and maybe even pick up some inspiring tips to help you build your own business and achieve a similar level of success!