Johnny Ventura Hits the Bigtime Overnight!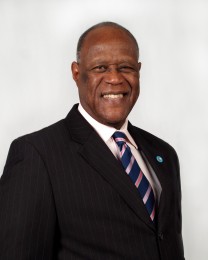 Here is a man who has truly made a name for himself. According to Wikipedia, "He is known throughout the world as the legendary Merenguero, 'El Caballo.'" He was once the mayor of Santo Domingo, capital of the Dominican Republic. He was a singer, musician and orchestra director for 50 years.

"I recorded more than 100 albums. I did this because I believed that in the future, my family and I would receive a lot of money in royalties. But when music piracy and the Internet destroyed my dreams, I had to look for money in different ways."

Early last year, NC Carlos Marin called Johnny in Santiago and asked him simply, "Johnny, would you like to come to Dallas next Sunday?" Johnny answered, "Wherever you are, I want to be there, too." (Of course, all this was in Spanish.)

Johnny had known Carlos from "the old business." That's where he first learned of his Ambit sponsor's "...knowledge and interest in showing people how to be economically free. When Carlos showed me the plan, I thought, 'Now I got it!'"

Johnny had finally found his opportunity of a lifetime. He recalls his reaction to seeing the plan, "I said, 'Thank you my God.' Immediately I told myself that my friends, fans and family use electricity and gas, and so do all the people that they know, too. It's common sense!"

Johnny Ventura, Executive Consultant
Today in New York City, Johnny Ventura leads a new orchestra as an Ambit Energy Executive Consultant. Now the music he makes isn't merengue; it's money. But Johnny didn't hit the bigtime overnight. He promoted to EC in February 2008 and now he's building some truly serious residual income; those royalties he'd been expecting won't be coming from his recordings, but from the incredible long-term income he'll earn by sharing the Ambit Opportunity.

Johnny says, "I always give thanks to God for bringing me close to Carlos and Cecy Marin. They connected me with Ambit Energy and gave me the opportunity to show others this wonderful business. I want to thank [Co-founders] Jere [Thompson] and Chris [Chambless] because they saw this window of opportunity and created this business that helps people build financial security for themselves and their families. I also want to thank Euclides Rondon, Aura Guzman, Ramon Amparo, Jose Pou, Fifa Ventura, Henry Jimenez and the leaders under their groups because they follow me and trust in me."
Johnny's thoughts on Ambition
"Ambition 2007 was spectacular!" Johnny, being musical, remembers things by ear and says, "I'll never forget when I heard Jere Thompson say, 'Never sacrifice integrity for growth.' Those words resound yet in my ears. I can't forget that because when I heard it I thought we are in good hands." Johnny realized how quickly his business grew after attending our inaugural national convention last October, so it's no secret why he'll be in Dallas this September. Like all successful Ambit Consultants, Johnny is always ambitious, and he says, "I will be at Ambition 2008 because I hope to know how I could go quickly to National Consultant, the next promotion level."

Advice for new Consultants
Johnny believes every Consultant has to be at Ambition 2008. By being there, he says, "They will have in their hands the tools they need to build a great group."

About building his own business, Johnny says, "I use the same way that Carlos showed me. I only talk to people about the deregulation of the energy law. When they ask me about it, I ask them, 'How many people do you know that use electricity and gas?' You know, it's very simple."

Johnny says new Ambit Consultants should know, "We have an excellent system. Our Consultants just have to let the system work for them." Just as the contagious rhythm of the merengue tends to grow on you, Johnny's commitment to the Ambit Opportunity drives his flourishing business. He says about new Consultants, "All they have to do is feel like they are farmers. Put the seed of this business in the heart of the people and never quit!"
---
Featured Consultant
At Ambit Energy, we're inspired, proud, and even awed by the success stories we hear from our Consultants every day. Learn what motivates some of our top Consultants, read why they decided that Ambit was the right company at the right time, and maybe even pick up some inspiring tips to help you build your own business and achieve a similar level of success!