Just as Excited Today
Nir Golan, Executive Consultant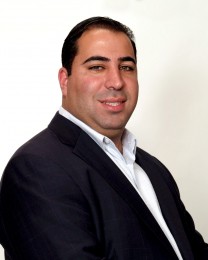 You feel like you can actually touch his excitement over the phone. "It's electricity!" EC Nir Golan exclaims, "There's so much money we can make!" That's how he felt when Executive Consultants Chris and Debbie Atkinson showed him the Ambit Opportunity in early 2008. He jumped right in. He saw great residuals and bonuses and that there was no product involved. He's obviously just as excited today as he was back then.
Nir promoted himself to Executive Consultant on 7/11 this year, just 15 months after joining Ambit. He owns a jewelry business and a credit repair business in Houston, but right now, with the economy the way it is, "Nobody's buying diamonds," he says. "A lot of people in my business are going out of business." His credit repair business has also seen better days.
"This is a recession-proof business," Nir says about Ambit, which directly corresponds to his "Why." As a businessman, Nir sees that with Ambit you can "build a business that will always grow, no matter what the economy. You don't have to worry whether it's raining, you don't have to worry about rent, you don't have to worry about employees…" He's on a roll now: "You can get started in your own business for only $429. Even if only half of this works, I hit a jackpot!"
The Ambit advantage.
Nir has had previous success in network marketing. As a 17-year-old in Israel, he worked a health products business. "It was a lot of fun!" he remembers. But Israel's population is smaller than Houston's, and soon, "There was nobody left to recruit; there was no place to grow."
Ambit is different, because unlike in the health products business, Ambit Consultants don't have to purchase a product to join the business and then move it to experience quick success. Nir says with Ambit, "Everybody can be their own first customer and sign up their mom and BAM! First Bonus!"
According to Nir, "If you know how to have fun in business, you're going to do well. Whether it's easy or hard, it's fun. And you get to make money!"
Nir says that Ambit Energy takes away any of the obstacles usually associated with network marketing. There's no billing, no inventory, and electricity is a product everybody uses. To Nir it seems the system is designed so that Consultants "share only in success."
The system works.
"My motto is 'Keep it simple,'" Nir says. "Don't re-do the book." He sees some people in the business who waste time with their own ideas about building the business when the company already does a great job providing a proven system. Nir says when people ask him, "What's the secret?" he responds, "Get started! Don't try to do a lot. If everybody will do a little bit, we'll all do well." Good people make it possible.
For all their hard work in spreading the word of the Ambit Opportunity, Nir is very grateful to his team of Senior Consultants: Monica Taylor, Phil Toler, Paul Vincent, Megan and Jesse Dishaw, and Leslie and Pierre Miller. And even though he's reached Executive Consultant leadership status, Nir still counts on his upline, specifically ECs Chris and Debbie Atkinson. "I am proud and honored to be in Debbie and Chris's business. They've been critical to my success, and to the success of people I brought into the business."
Nir says, "Debbie always answers the phone. I'll call her and say, 'I've got two people in my office. Debbie, can you come?' and she'll say, 'Oh, yes.' And Chris will drive me to a one-on-one presentation if a guest can't come to a meeting."
The importance of attitude.
Nir says that a new person coming into the business has one thing: a belief system. Nir believes that all Consultants should go to any event that the company does, especially if you're a new person. Attending events raises your belief. "Get your belief system up," he says. "You have to be 100% committed to see a lot of success. A casual approach gets you a casual amount of money." He goes on, "One hundred dollars a week is okay, but this is also a business that can change your life! Some think of it as a hobby, but that's not the right attitude. Yes, it's a $429-business, but it's also a million-dollar business!"
Advice for new Consultants.
"Keep it simple. Don't spill the popcorn before the movie starts," Nir advises. In other words, don't try to explain the business to a prospect; get them into a Business Presentation. "As a beginner, become your own first customer." And he says instead of trying to recruit, "Invite, Invite, Invite! Let the upline recruit."
The future.
Nir wants and hopes to help generate as much success for himself and for as many others as he can to achieve financial freedom. He says that in this business, "It's not easy to be a millionaire, but it's possible!"
---
Featured Consultant
At Ambit Energy, we're inspired, proud, and even awed by the success stories we hear from our Consultants every day. Learn what motivates some of our top Consultants, read why they decided that Ambit was the right company at the right time, and maybe even pick up some inspiring tips to help you build your own business and achieve a similar level of success!