Just Say No to Student Loans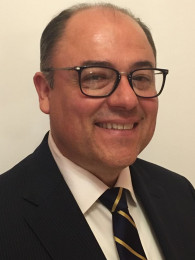 Just Say No to Student Loans
Most people hate to talk about student loans. But, it was a talk with a friend that led to Alfredo Duenas learning about Ambit. "It was through a conversation regarding education and student loans for our children that someone told me about Ambit," Alfredo said. That led to eventually starting his own Ambit business. Now, he's been promoted to Executive Consultant (EC) and he and his wife, Mariana, can see a new future. "We started this Ambit journey, which is now making our daughter's education possible," he said. "I've finally found what I was looking for to free us from student loans for our daughter, Isabella."
A Fantasy or Real Life?
Alfredo has spent the past 22 years working in the local and state governments. When he first heard of Ambit, he thought the business was too good to be true. "I thought this sounded like a fantasy at first, but after doing some thorough research of the company and its leadership, we decided to go for it," Alfredo said. That decision has changed his life. Now, he has a new goal in mind. "Ambit Energy is giving me the chance of retiring three years earlier," he said.
The Ambit business was difficult for him in the beginning. And, he knew that had a lot to do with his career. "Working for the government is about following rules and regulations, but Ambit is following a system," he said. "I can't say that I was coachable; I was completely outside my element." It was a feeling that quickly changed as he began to see results. "When your 'Why', is bigger and stronger than the feeling of not succeeding, then magic starts to happen," Alfredo said.
Clearing the Path for New Goals
There's one thing that Alfredo always talks about with new Consultants. "I always emphasize clarity in goals, their own life assignment and clarity in their gifts," Alfredo said. It's a reminder that he likes to give because it helped him gain a new perspective on his life after starting his Ambit business. "So many of us are sleepwalking through life and we forget that God doesn't make mistakes. He has a plan for each one of us, but he gave us the power of choice," he said, adding, "Once we are clear in our goals it's like having a lighthouse. No matter if it's foggy, if it's dark, if the currents push you back and forth, having clarity leads the way, we are the ones controlling the sails." It's that type of guidance and direction he wants to give now.
As an EC, Alfredo plans to spend a lot of his time focused on teaching others, but realizes he has to keep learning. "I want to keep being a student of highly successful Consultants; you can't argue with success," he said. However, there is one piece of advice he wishes he'd known as a new Consultant, that he now passes on to others. "Surround yourself with people who have what you want. Negative people will drag you down, remember negativity is contagious, but so is positivity; your choice!"  
Five EC Pieces
Our "Why?"
A life free of student loans and building residual income while at it.


Time spent working our Ambit business:
15-20 hours a week


What was your single most-effective Success Tool, factor or influence for growing your business?
The "Success from Home" magazine


Name your favorite thing about AMBITION:
The amazing energy from Consultants from all over the country together with the same vision.


Thanks to the five SCs who helped us reach EC.
Alexandra Usme
Tania Ampuero
Kaneeza Karim
Denise Ruiz
Ricardo Núñez
---
Featured Consultant
At Ambit Energy, we're inspired, proud, and even awed by the success stories we hear from our Consultants every day. Learn what motivates some of our top Consultants, read why they decided that Ambit was the right company at the right time, and maybe even pick up some inspiring tips to help you build your own business and achieve a similar level of success!