Leading from the Front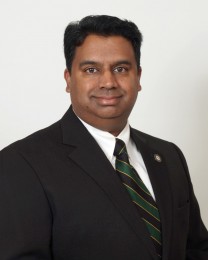 Want more freedom to spend time with your family? Talk to EC Ash Krishna. He's a perfect example of how the Ambit Opportunity can provide you with the freedom to schedule your time however you want to — even when you're working your Ambit business "full-time."
United States Army Major Ash Krishna lives in Staten Island, New York, where he and his wife, Sherry, are raising their children, Arjun, 12, and Kiki, 6. Ash began the interview for this story at his home, continued it in his car on the way to pick up his kids from school, and as he pulled up to the park to drop them off with a soccer ball, he said, "I'll be kicking it around with them when we finish up."
"You cannot put a value on being with your kids while you're in good health," he says. He loves being around his family and "being there for the kids every day."
The value of service-based residual income
Ash is one of the rare folks who was actually looking for Ambit when the opportunity came to New York. He went to the Pre-launch meeting at the Hilton in Manhattan, met Ambit Energy's Corporate executives and "it all came together for me."
He had learned the value of earning residual income while leading a network marketing organization in the telecom industry in the late 1990s.
Ash says, "I was introduced to network marketing while working in my family's traditional export trade firm that my father had started back in 1963 near Wall street. I joined the business after college and I was looking for ways to lower our international phone bill, and found a company that dropped our bill drastically. Little did I know that company had a fledgling network marketing division. One thing led to another and I found myself as a rep, and after about three years, I had a very substantial residual check that came at me month after month."
Fast forward to 2003, a turbulent year for Ash. "I unexpectedly lost my father in heart surgery. I had my second child soon thereafter and right before New Year's Eve, I received 72-hour deployment orders for Operation Iraqi Freedom."
He was away for a 14-month tour of duty. For his efforts in the "sandbox" he earned the Bronze Star Medal (see below). Among the accolades on the paperwork recommending him for the medal, his Group Commander wrote, "My best officer — bar none!"
He returned home in 2005. As he recalls, "My family business was not there to run any more as my father nor I was there to run it, so the residual income that I was receiving all throughout my tour was very helpful and crucial to my family's financial security." Telecom as an industry changed soon thereafter, and so Ash began looking for a similar, service-based opportunity.
"I saw mature companies that had their systems down to a science. The fundamental problem was that they were product based," he says. "Ambit popped up on my radar screen right before the New York launch and I jumped in with both feet and never looked back!"
How Major Krishna leads his team
Ash credits his friend and running partner, Russell Sucgang, as being instrumental in building his Senior Consultant team. "Russell is set for the national stage with Ambit," Ash says. "He's a great public speaker, always at 100%." Along with Russell, Ash's Seniors who helped him promote to EC are Steve Metalios, Paul Moraes, Kusal Gunasinghe and Laurence Torres. Ash would also like to recognize SC Raj Sudhakar and SC Abel Dharmaraj, the first two Consultants he put in the business. Ash says, "They are still actively involved in building their businesses and are active members of our Team, Team HighSpeed."
How does he attract such valuable human assets to his business? "You make a conscious decision to approach people," he says. "Create the list — I made one myself — of at least 100 or 200 people." He says he's a big fan of not reinventing the wheel. His team makes "a special effort to not change what we have." They use the P.R.I.M.E. System* found in Ambit's training materials to help new team members develop their prospects.
Ash says, "You have to lead from the front. If you do not show your team that you are doing the things you are asking them to do, they will not do the same. People will do what you do, not what you say." As he leads from the front, he always evaluates what he's doing to assure that he's spending time on Ambit's two core activities: 1) Gathering customers; and 2) Showing others how to do the same. "Whatever you do, make sure it is duplicable," he advises.
Team accomplishments
It's no surprise that this 20-year military veteran who rose rapidly through the ranks, skipping staff positions for command positions, has established himself as a leader with Ambit. "We have created a training center which we use for business presentations, training events, and recognition ceremonies," he says. And he's proud that the Corporate staff has been by to visit it. He also says, "I was humbled to be a 2009 recipient of the Pure Energy Award, largely in part due to accomplishments of my team."
The value of the business
"This is a solid company with proper leadership at the helm and a proper team manning the vessel," Ash says about Ambit Energy. He appreciates that energy is a service everyone uses 24 hours a day, seven days a week. "No one unplugs their refrigerator or blows out their pilot lights when they leave the house." Plus Ambit has what he calls "a tried and tested compensation plan that rewards you if you work it."
A few final thoughts
"Sherry, my wife, has been extremely supportive of my decision to pursue this as a full time business, and that to me is priceless," Ash is happy to say. "My goal is to create a residual income that provides financial freedom, and time freedom, for my team and myself." Ash says, "I'm hoping this translates to a team that becomes active contributors to doing 'good' in this world."
As someone who grew up working in a traditional business model responsible for profits and for the welfare of his people, Ash is completely sold on the Ambit Opportunity. He continues, "This is a rare business model where a common person with consistency and discipline can do well. If I gave you a shovel and told you there was gold, you'd roll up your sleeves and go to work. It does take work, but it's not rocket science. That's the adventure of Ambit!"
---
Featured Consultant
At Ambit Energy, we're inspired, proud, and even awed by the success stories we hear from our Consultants every day. Learn what motivates some of our top Consultants, read why they decided that Ambit was the right company at the right time, and maybe even pick up some inspiring tips to help you build your own business and achieve a similar level of success!