Learning How to Succeed With Ambit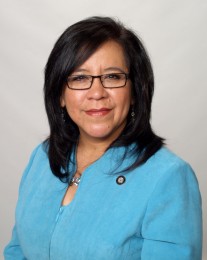 Adriana Adams worked as both an elementary school teacher, and as a buyer for a major retail chain. She and her husband Jack have also traveled extensively on behalf of their church, and a few years ago they decided that she would not renew her teaching contract. They weren't so sure how they would replace her income.
That's when their friend Abraham Chavez introduced the Adams to Ambit. "We were excited about starting a family business that would succeed only as we helped others save and make money," Adriana says.
The two of them hoped that Ambit would replace the teaching income they were losing, allow them to continue home schooling their son, and be less stressful for Adriana. "Ambit has done that and so much more! My husband has now retired and we spend our precious time together. Our income has allowed us help our parents and a man who was in need."
Teaching Others To Succeed.
For Adriana, one of the rewards of working with Ambit is helping others to succeed. "I want to impact the lives of many near and far. My passion for success is fueled by encouraging others to find their passion."
She is also aware of being an example. "There are many people with great potential, but because of life's difficulties they have lost their ability to hope and dream. I hope our success is a beacon to many."
It should be. Adriana has been recognized as the Number Three Texas Recruiter, honored with a Pure Energy Award, named Most Passionate Woman, cited as the Top Rated Business Presentation and listed as one of the top 50 money earners in all of Ambit for 2012.
"All this allows me to stay focused and committed for even greater success, and for being an example to many," she says.
"I want others to know with perseverance, sacrifice, commitment and focus, we reached the level of Executive Consultant, and if they are ready to do the same, they too, can reach it. Everyone has greatness within, they just have to untap it."
New Goals, New Opportunities
"I have made it my goal to visit with top Ambit leaders and our CMO Chris Chambless for guidance in developing my skills as a stronger leader. I will remain focused on helping others, supporting new and established local meetings and working in new markets by facilitating trainings in English and Spanish." Adrian also plans to stick to her tried-and-true methods of carefully planning trainings and one-on-ones, always making follow-up calls and constantly contacting new prospects. And, of course, she plans to continue attend AMBITION, which she says "is a beautiful reminder we have partnered with excellence."
Clearly, there is a lot to be learned from a great teacher like Adriana.
My "Why?"Long term financial freedom for our family and many others.
Time spent working my Ambit business:
A few hours a day. Every night I try and plan for the following day's trainings, one on one, in home and local presentations, follow-up calls, as well as contacting new prospects.
What was your single most-effective Success Tool, factor or influence for growing your business?
Perseverance sprinkled with the use of the Success from Home magazine. Being on the cover and a feature story has helped us show others that Ambit is an amazing vehicle for anyone no matter your education, age, or gender.
Name your favorite thing about AMBITION:
What makes Ambition an unparalleled event, is to hear from our co-founder Jere Thompson and Chris Chambless-their vision and heart for our company. It is a beautiful reminder that we have partnered with excellence.
Thanks to the five SC's who helped me reach EC.
Ingrid Yardley, Jeff Brogan, Manfred Schuler, Cristina Fonseca, and Angie Serna.
---
Featured Consultant
At Ambit Energy, we're inspired, proud, and even awed by the success stories we hear from our Consultants every day. Learn what motivates some of our top Consultants, read why they decided that Ambit was the right company at the right time, and maybe even pick up some inspiring tips to help you build your own business and achieve a similar level of success!