Life Changes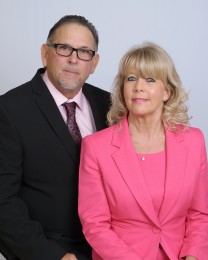 Shirley and Dean Chisham lived comfortably in Van Zandt County, Texas for many years. He was a painting contractor and she, after 24 years of service at the Texas Attorney General's Office, pursued a political career as Van Zandt County Tax Assessor-Collector. Both were successful in their fields. Dean was voted "Painting Contractor of the Year" for the county in 2016, and Shirley was re-elected for another four-year term in 2017.
In 2016, shortly after Dean received his award, a life-changing injury changed everything for them. He could no longer work, and their income dropped dramatically. But they didn't worry too long, because they knew exactly who to call for help. Their son, Doug Parker, was an Ambit Consultant, and he was excited to share the Opportunity with them and get his parents onboard.
A Second Chance
Shirley tried Ambit once before to support her son when he started out, but later felt that it wasn't right for her. After Dean's accident and learning the Ambit system worked, they decided to try it one more time. Their goal was to generate enough income to compensate for what they lost after Dean's injury, but soon understood they could do more than that.
They also hoped to build their income to retire comfortably. After just two short years of working their Ambit business and learning about the benefits of residual income, they knew they would be able to retire sooner than they expected. "We have realized over time the income with Ambit is limitless," Shirley says.
Doing Things Right
After getting plugged back in to the Ambit system, the Chishams planned to trust the process. "Ambit's method works so don't try to re-invent the wheel by doing it your way. All the tools are there for you on your website – just explore and learn," they say.
Shirley's new goal is to be able to retire from her current job and work their Ambit business full time. The Chishams plan to visit new markets and continue to work closely with their downline to reach their goal of becoming NCs. Throughout this process they have learned and want to encourage others to keep pushing through rejection and not to give up on their goals. Shirley and Dean wish they would've stayed with Ambit the first time, but now there's no turning back for them. They are proud of their accomplishments and hope to inspire others to keep moving forward.
Five EC Pieces
Our "Why?":
We wanted to build our income, so we could retire comfortably.
Time spent working our Ambit business:
We carve out a part of each day to work our Ambit business.
What was your single most-effective Success Tool, factor or influence for growing your business?
Our biggest influence was our son, Doug. Without his leadership and guidance, we would not be where we are today.
Name your favorite thing about AMBITION:
The camaraderie with other Ambit Consultants and gathering helpful information that we can use to help grow our business.
Thanks to the five SCs who helped us reach EC:
Arion Pierce
Christian Kochan
Anthony Pacheco
Heather Chamness
Valerie Araiza
We absolutely could not have done it without these remarkable Consultants who helped us reach EC in such a short time period.
---
Featured Consultant
At Ambit Energy, we're inspired, proud, and even awed by the success stories we hear from our Consultants every day. Learn what motivates some of our top Consultants, read why they decided that Ambit was the right company at the right time, and maybe even pick up some inspiring tips to help you build your own business and achieve a similar level of success!