Living the American Dream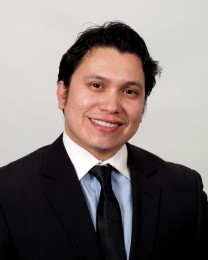 Born in El Salvador, Geovanni Ventura had to make plenty of adjustments while he was growing up in the Dallas area – a new country, a new language, a new culture.
"It was a constant struggle for my immigrant parents to make ends meet," remembers Geovanni. "Neither of them had more than an 8th grade education in our country, and now they were in a new country where they didn't speak the language and had very little money."
Although the family's struggles continued, they placed the utmost importance on their children's' education. Geovanni worked his way through college, starting out at community college before transferring to the University of Texas at Arlington, where he earned his Bachelor's degree.
"While in college, I knew there had to be more to the American Dream than just working my life away. And even with all that work, it looked like later on when I had children, it would be financially difficult to send them to college."

FINDING AMBIT
Geovanni always wanted to give back to his parents for all the support they had provided him. "In searching for an opportunity that would allow me to live the kind of lifestyle I had always dreamed of, I found Ambit – or Ambit found me!"
He first heard about the Ambit Opportunity from good friend Terry LaCore, who had made his first million by the age of 21. "When I heard he was getting involved with Ambit, I knew I should grab hold of his coattails and go along for the ride!"
Geovanni was lucky enough to meet National Consultant Danny Kirby, "who has become my biggest mentor and inspiration throughout my Ambit growth."
In less than a year, he was able to "fire his boss"—and ever since then, has enjoyed "working part-time hours and getting full-time pay. As Danny Kirby says, 'we get paid for having fun and getting lucky!'"
 
SELLING "THE PERFECT PRODUCT"
What impressed Geovanni the most about Ambit was the previous successes of Co-Founders Jere Thompson, Jr. and Chris Chambless.
"Plus, it's the perfect product," he declares. "We can't live without electricity – and those who don't have it, want it really bad!"
Geovanni also was excited about the earnings potential: "I loved the fact that if I put in the work, I could make more in a month than lots of people make in a year – and that spelled financial freedom for me and my family!
"I'm so grateful to have found this great company called Ambit, which truly is helping me to live out the American Dream."

NOTHING TO LOSE, EVERYTHING TO GAIN
In the beginning, many of Geovanni's friends and family members were skeptical, and turned him down – "even when I just asked them to be my customers!"
"Some people, even though the evidence was right in front of their face, were still afraid. Even though there's nothing to lose, but everything to gain!
"I can laugh about it, but my own father still hasn't become my Ambit customer," chuckles Geovanni – proving that even after he was able to quit his job and work on his Ambit business full-time, there were still skeptics. "I think he's finally coming around though."
But for Geovanni, the bottom line is knowing that his success isn't based on one family member or one friend. "My success or failure is completely in my own hands. And it's about starting something big – that once it's in motion, will continue to grow beyond my own efforts."
And for the most part, Geovanni has found tremendous support from his family, friends, and "all the wonderful people who have joined me on my Ambit journey."
"I've noticed that great people attract great people, and a great opportunity attracts great people as well," observes Geovanni. "Some of my closest friends now are people in my Ambit organization. And everyone is so proud of each other's successes – which brings me great joy."
When Geovanni says that the Ambit Opportunity has been a blessing for him and his family, he really means it. "My sister Magaly Abbott is now a Senior Consultant – and she's fired her boss as well! Now she has time to enjoy with her family. I'm currently working on helping my brother achieve the same goal as well!"
GREAT EXPECTATIONS
"When I got involved with Ambit, I felt it in my heart that this was my ticket to financial freedom," says Geovanni. "And I'm pleased to say that Ambit has not disappointed – all my expectations have been exceeded.
"I knew that Ambit would enable me to take control of my own destiny, after starting as a small immigrant boy looking for an opportunity."
Ever since he started his Ambit business, Geovanni has been pleasantly surprised by his results. He claims that he didn't realize how quickly it would take off, nor that he'd be financially secure enough to quit his job within the first year.
"Now, I'm making more money working for myself than I ever did working for somebody else. I couldn't have asked for more and things keep getting better!"
But although Geovanni has worked diligently to get where he is, he is truly grateful for the support of his family, friends and all of the people in his Ambit organization.
"My Ambit team has been sent from Heaven," exclaims Geovanni. "I wouldn't have achieved any of my successes if it wasn't for their efforts. It's been their tremendous leadership ability and drive that made it possible for me to achieve my Executive Consultant position, and I am very grateful for their hard work and dedication."

BUILDING A MORE POSITIVE FUTURE
Geovanni is excited to build his Ambit business to its full potential. "I want to establish a legacy to leave for my children and their children, for generations to come. And I want to impact as many lives as possible in an overwhelmingly positive manner."
He sees a bright future for the company, our Consultants and our customers. "I see a company with tremendous leadership, and a company that will grow to its fullest potential and will break records," says Geovanni. "I see Ambit not only being a national success, but also an international phenomenon."
Just as importantly, Geovanni believes that Ambit will serve as an important way that individuals and families can achieve financial freedom. "Ambit will make more six-figure-income earners and millionaires than any other company."
IT ALL STARTS WITH A "WHY?"
Geovanni has plenty of advice for new consultants, but the most important thing is "to really define your 'Why.' Your 'why' is your Dream, but it has to be big enough and important enough for you to be willing to make sacrifices. It's got to be important enough to keep you focused and get you through your ups and downs."
He continues that "we're all human and that makes us emotional beings. When you feel like giving up, remember that if you want what others don't have, you have to be willing to do what others aren't willing to do. You just have to keep your eyes on the prize – on your 'why.'"
Geovanni makes sure to preach consistency to his new consultants – even if it's just attending one training and one business overview meeting a week. "If they do this week after week, they will stay focused and "plugged in" – and they will know what to do the rest of the time."
He feels that it's important – if you want to grow a successful organization – to create momentum by sharing the Ambit information every week, going to regular training and making sure that your team does the same.

BETTER AND BETTER
So what's next for Geovanni Ventura? "Ambit has allowed me to realize the American Dream – and I look forward to traveling the world, living life to the fullest, and enjoying a life of success, abundance and freedom.
"I'm able to spend most of my time doing what I love and doing less of what I don't like. In today's economy, most people spend more time doing what they dislike. I am truly blessed, and the blessings keep getting bigger!
"My life has truly changed for the better, thanks to Ambit and its amazing people!
---
Featured Consultant
At Ambit Energy, we're inspired, proud, and even awed by the success stories we hear from our Consultants every day. Learn what motivates some of our top Consultants, read why they decided that Ambit was the right company at the right time, and maybe even pick up some inspiring tips to help you build your own business and achieve a similar level of success!