Looking for an Opportunity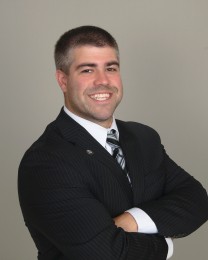 Shawn Coleman was always competitive. He'd won numerous awards as a salesman and was always on the lookout for new ways to earn extra money. Despite his work ethic and talent, he found himself working two dead end jobs with no opportunity for advancement and little time to spend with his wife Rebecca and daughter Faith Marilyn.
Then, one day, Rebecca told him her brother Ralph wanted to talk to him. When the phone rang, Ralph told Shawn "I have an opportunity for you." Shawn says, "without letting him say another word, I replied 'sure, whatever it is, I'm in.' You see, when I asked him for Rebecca's hand in marriage, he'd made me promise I'd always keep a job. So I knew he'd never get us involved in something bad."
Before long, Shawn started to see all the good things about Ambit, too. "Everyone we know, love and trust uses electricity and we're just asking them to do us a favor by paying less for something they have to use and can't live without."
Sold on Ambit
Shawn cites one particular success story as a favorite. "I signed up a young gentleman named Justin Miller who suffers from Spinal Muscular Atrophy and is in a wheelchair. He filled a living room with 14 guests at his first home party, and seven of those guests became Consultants. That's when I knew this was going to work. It's being able to work with inspirational people like Justin that keeps me moving forward to help as many others as possible achieve success." Shawn and Justin's story is a reflection of his belief that Ambit is "a business built off of trust and relationships."
Of course, Shawn has not only helped others, he's achieved one of his most important "Whys" as well. He has been able to quit working two jobs to spend more time with his family.
Big Accomplishments
In addition to promoting to Executive Consultant, Shawn has been featured on the cover of Success from Home magazine. He anticipates going even farther, because "my wife and my daughter remind me that I can never quit no matter what obstacles life throws my way."
With a proven track record of success and a commitment to helping other succeed, it's likely that life is only going to get better for Shawn and the Consultants whose lives he touches.
Five EC Pieces
My/our Why
Spend more time with my wife and daughter, being with them reminds me why I can never quit no matter what obstacles life throws my way.
Time spent working my/our Ambit business:

Eight to 10 hours a week but its hard to quantify because I'm always building people up and people build Ambit—plus, I wouldn't consider it to be work, I enjoy building my Ambit business.
What was your single most-effective Success Tool, factor or influence for growing your business?
I have to say Kirk Horan, without his leadership and mentoring, I might not have succeeded. I also have to say thanks to local leaders such as Tony Procopio, Ryan Gould, Jay Emma, and Patrick Flanders who helped give me the confidence while building my business. Kirk Horan's friendship, support, and leadership continues to this day.
Favorite thing about Ambition:
Being around people with the same passion as myself, and making new friends each year.
Thanks to the 5 SCs who helped us reach EC
My parents Richard and Susan Coleman, my best friend Chris Corcoran, Alicia Herritt, Shane McKean, and Kevin Shultis.
---
Featured Consultant
At Ambit Energy, we're inspired, proud, and even awed by the success stories we hear from our Consultants every day. Learn what motivates some of our top Consultants, read why they decided that Ambit was the right company at the right time, and maybe even pick up some inspiring tips to help you build your own business and achieve a similar level of success!