Looking for an Opportunity
Ruth Velez, Executive Consultant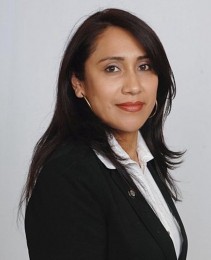 Looking for an Opportunity
Growing up in Ecuador, Ruth Velez didn't have a lot of opportunity. Her family was unable to afford to educate her beyond elementary school, and when she was 13 she went to work to help support her family. Once she had daughters of her own, she knew she had to do something to help them have a better life. So she made the painful decision to leave her girls behind while she moved to the U.S.
Once here, she worked a series of unsatisfying jobs until a friend told her about Ambit Energy. "I thought it was the biggest opportunity in the world," Ruth says, "because everyone in the world uses it. This is the perfect moment. I have to do it." Despite her enthusiasm, Ruth faced challenges other Consultants might not. For example, she didn't know how to use a computer. And like many others, she also struggled to balance her Ambit business with caring for a family. But she stuck with it. As she says, "Everything in life takes time, and everything comes at the right time."
Exceeding Expectations
Ruth started off by setting realistic goals. "I wanted to make $500 a week and have time to spend with my family," she says. But she soon exceeded those expectations. "Inside my organization, I have the satisfaction of seeing Consultants surpass the salaries of their traditional jobs thanks to Ambit. I will continue to help and motivate, to keep growing and develop this business."
Now, her goals are bigger. "I see myself with a new lifestyle, economic prosperity for my family and me. I see myself being a professional in network marketing."
A Method for Success
Her advice to others is simple. "Never get discouraged. With perseverance and consistency sooner or later you'll get results. This business is not difficult, you just need to follow the Ambit system. Go to Business Presentation, events and never miss AMBITION.
"I never thought that I was going to make it. Now I have the opportunity to be a leader of others so they can accomplish their goals."
Five EC Pieces
My/ our "Why?"
My "Why" is my family.
Time spent working my/ our Ambit business:
20-30 hours per week.
What was your single most-effective Success Tool, factor or influence for growing your business?
Local presentations, events, meetings, videos and the closing calls in PowerZone.
Name your favorite thing about AMBITION:
I loved the presentation of John Maxwell, thanks to that I had the opportunity to meet other leaders that have been successful in this business.
Thanks to the five SCs who helped me/ us reach EC.
Lourdes Paucar
Franklin Peña
Karina Chicaiza
Karen Maizincho
Maria Loya
---
Featured Consultant
At Ambit Energy, we're inspired, proud, and even awed by the success stories we hear from our Consultants every day. Learn what motivates some of our top Consultants, read why they decided that Ambit was the right company at the right time, and maybe even pick up some inspiring tips to help you build your own business and achieve a similar level of success!