Looking for the Right Opportunity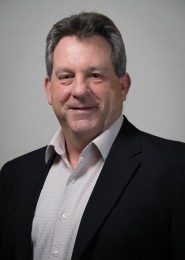 Sometimes, finding the right opportunity takes time. Steve Testoni worked as a bartender, in a paper factory, owned a pizza shop, drove a truck, worked in a warehouse, sold commercial printing, packaging and facility solutions, along with several other jobs and a number of multilevel marketing companies before he found Ambit. But when he did, he knew he was on to something. "I knew I finally found the right company, with the right leaders and mission. It took me 15 plus years to find it and I'm just glad I didn't prejudge Ambit based on my past failures with other MLMs."
After being introduced to the business by his friend and network business partner SC Lance Miles, Steve set himself a goal – to make EC in three-to-five years. Although he fast-tracked to RC in 11 days and made SC in 91 days, he missed his goal – by exactly one day, becoming an EC five years and one day after starting his Ambit business.
Finding His "Why"
Like many Consultants, Steve's "Why" changed over the years. "I wanted to get out of credit card debt, to help my kids with college, to have an additional income stream for retirement and to pay for health insurance after I retire," Steve says. "I believe if I continue to build my EC legacy, Financial Freedom is a reality." In addition to keeping himself motivated by updating his "Why," Steve has made himself available to anyone who needed his help, even if they weren't on his team. "I have done my best to help team members become leaders and build their respective teams, and also be there for anyone looking for help" he says.
One of his most inspiring moments was meeting Ambit Co-Founder and CEO Jere Thompson, Jr. in Hartford, CT. "I shook his hand and said, 'I've been waiting to meet you my whole life.' Jere blushed and seemed so grateful. I knew he was the type of person who would do great things for whoever was willing to do the work."
Opportunities to Come
While Steve is proud to have reached EC, he knows it's just one more stop on his road to success. "It's a great accomplishment only if you continue to work hard and put yourself in a position for Financial Freedom." That's why he plans to continue to visit new markets, network and focus on training. He knows if he continues to do the things he's done, he'll achieve his dream of "living comfortably, helping others succeed, and enjoying the new friendships I have and the ones yet to come with Ambit."
Five EC Pieces

My/ our "Why?" Now it's all about retirement income

Time spent working my/ our Ambit business: To put the necessary time to build my EC leg and help my active team leaders.

What was your single most-effective Success Tool, factor or influence for growing your business? Local BP and support from EC's Anita and Gino Chiaravalle.

Name your favorite thing about AMBITION: This is a Corporate atmosphere event, not a rally like many other MLM annual events. The trainings and evening company sponsored events. Family and team atmosphere!!

Thanks to the five SCs who helped me/ us reach EC. I can't thank you enough for all your hard work and never quit attitude!! You're at a point in your Ambit business to do incredible things personally and financially. Keep moving forward and no matter how long it takes, strive to reach your goal, whatever it may be!!
---
Featured Consultant
At Ambit Energy, we're inspired, proud, and even awed by the success stories we hear from our Consultants every day. Learn what motivates some of our top Consultants, read why they decided that Ambit was the right company at the right time, and maybe even pick up some inspiring tips to help you build your own business and achieve a similar level of success!