Looking for Their Place at the Table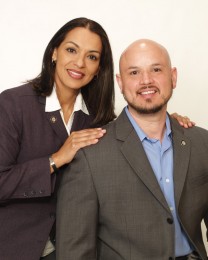 Earle Chapa spent the first years of his adulthood defending the American dream as a member of the U.S. military. Then after returning home as a veteran of Desert Storm, he was ready to start living it. For him, that meant marrying Maria, moving to Houston and starting his own furniture business. Over the years, the couple made their business a success, expanding to four locations and serving customers all over Texas. But as the economy contracted, their business had a harder time finding both customers and financing.
"Many furniture retailers were going out of business," Earle says, "and we began to wonder if we were next. We were affected emotionally and financially. We were praying for another stream of income, and that's when we learned about Ambit."
In fact, a way out their difficulties was closer than the Chapas could have imagined—it was their next-door neighbor who showed them the opportunity!
"What impressed us most was the free energy and the residual it provided," Maria explains.
At Home With Their Success
At first, the Chapas didn't receive much support from their family and friends. To help overcome the negative remarks, the couple read self-help books to maintain a positive attitude. Eventually, their perseverance paid off, and now their whole family works Ambit.
They also learned they had certain strengths. Earle found his experience in the military and running his business enabled him to work well with people from a wide variety of backgrounds and cultures. He also installed an Ambit Center in one of his retail stores with a projector and dry erase board to show the opportunity to as many people as possible.
Thanks to their hard work, the Chapas can now easily see a future where they are financially free, have plenty of time to spend together as a family and progressing to National Consultant.
What's In Store
The Chapas are eager to share the secrets of their success with other Consultants. "Stay positive, stay connected to weekly opportunity meetings and work as a team," Earle advises. He also recommends attending AMBITION. "The speakers and the Grand Finale are amazing."
With their history of hard work, it's easy to see that there's even more success in store for the Chapas as they continue to grow their Ambit business.
Our "WHY":
To be financially debt free and have time with my Family
Time spent working the Ambit business:
one to two hours a day.
What was your single most-effective Success Tool, factor or influence for growing your business?
One on Ones, or small groups. big advantage I had an Ambit Center in my Retail Store w/ projector and dry erase board.
Name your favorite thing about AMBITION:
Speakers and the Grand Finale.
Thanks to the five SCs who helped in the promotion to Executive Consultant:
Robert (BOB) Thurkettle, Arturo Pineda, Mauricio Mendez-Diaz, Annie & Harold Gibson and Fransisco Chapa.
---
Featured Consultant
At Ambit Energy, we're inspired, proud, and even awed by the success stories we hear from our Consultants every day. Learn what motivates some of our top Consultants, read why they decided that Ambit was the right company at the right time, and maybe even pick up some inspiring tips to help you build your own business and achieve a similar level of success!