Lucky Number Seven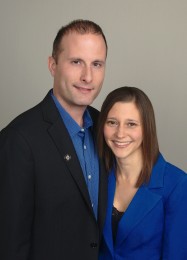 It was early in life when Nicholas Faith knew that network marketing was the career for him. There was only one problem. He couldn't find his niche or the right company. "Before Ambit, I was introduced to network marketing when I was 20 years old. I got completely hooked on the concept of leveraged and residual income," he said. Fed up with no results, he almost gave up on the entire idea. That is until his friend, Rob Van Wie introduced him to Ambit. Rob was a friend from a previous company. After learning more about Ambit, Nicholas knew something was different this time. Finally, he felt this might be the company for him.
The path to finding the right company was a difficult one. It also wasn't an easy process for him. He tried multiple times always hoping to find the perfect fit. "I was working on my sixth network marketing company," Nicholas said, "and experiencing the same lackluster results I was familiar with from the last five companies." The marketing concepts were the same. And, he knew them well. He also knew when he should see results. "I thought if what this company is offering is the real deal, then things could get really exciting," Nicholas said. Then, to his surprise things started happening. "This time, the work I was putting in was paying off and I was watching my team grow," Nicholas said. The real deal and the right company worked this time. "I guess the seventh time is the charm," he said.
His expectations and reasons for success are simple. "I really wasn't sure at first what my expectations were," Nicholas said. While he wasn't sure of his expectations, he easily pinpointed his reason for wanting success. "My 'Why' is the love of my life, Natalie, and living the life that we've always dreamed of together," he said. He easily translates the reasons behind his drive for success into how he built his team. He considers his team one of his biggest accomplishments at Ambit. "Building a team of people I can truly call my friends and watching their success is one of my greatest rewards of working with Ambit," Nicholas said.
Nicholas believes his work at Ambit has helped him change things in his life. "I now have more direction in my life and something to work towards," he said. The change in direction proved to be what he needed and wanted in his life. He also can see how new Consultants can use his story as motivation. His advice to new Consultants is in line with what he practices in his business. "Don't over complicate this and never quit," he said. With six companies behind him and finally finding the right one on his seventh time, Nicholas knows had he quit before he never would have found lucky number seven.

Five EC Pieces
My "Why?"
Living life on our terms.
Time spent working my/ our Ambit business:
In the beginning, it was a few hours a week, now a few hours a day.
What was your single most-effective Success Tool, factor or influence for growing your business?
Three-way call
Name your favorite thing about AMBITION:
The announcements
Thanks to the five SCs who helped me reach EC.
Natalie Pajak, Adrian Jimenez, Jaime Rangel, Marcus Moses, Evan Chen and all the hardworking members of Team Dynasty.
---
Featured Consultant
At Ambit Energy, we're inspired, proud, and even awed by the success stories we hear from our Consultants every day. Learn what motivates some of our top Consultants, read why they decided that Ambit was the right company at the right time, and maybe even pick up some inspiring tips to help you build your own business and achieve a similar level of success!