Making Second Chances Count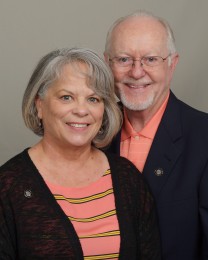 It was a second chance at the Ambit Opportunity that made Executive Consultant (EC) Tommie Rains pay attention. "I took an early retirement in 2005 and thought I was through," he said. "Six months later I was ready for something else to keep me occupied." That something to keep him busy was a part-time position at a friend's insurance company for six years. He and wife, Polly of 46 years, were enjoying their time together traveling and with their grandkids. Then, on a lunch date with friends, Justin and Sherri Title gave them a new something that they could do to keep busy. "They told us about the Opportunity and I immediately whipped out my credit card and signed up," Tommie said.
It was nine years before when another friend tried to get Tommie and Polly to start a business with Ambit. "I was too stubborn to look at it then," he said. But with retirement in his rearview mirror, they knew they were ready for the challenge, and a change. Ready with this new business venture, his friend was curious about why he was quitting his part-time job at his insurance agency. Tommie's answer quickly became another win for him. "After I told him why, he became my first Marketing Consultant," he said. That was only the beginning.
Nearly 33 years as a Marketing Executive sharpened Tommie's skills in working with people and making customers the central focus of his role. "I was always on call if needed by one of my many customers," he said. That experience has proved to be helpful in his Ambit business. "Being retired gave me a heads up on most people building their Ambit businesses because I could devote all my time and efforts to doing what I love, helping people," Tommie said. Now, as an EC, he uses that time to devote to training his new team. "My major challenges have been working with my downline Consultants and keeping them motivated and excited," he said. He's managed to use that challenge to his advantage though. "People are very different and what works for one person doesn't work for someone else. You have to keep trying different ways of motivation," Tommie said.
Tommie can pinpoint the exact moment when he knew starting his Ambit business was a great idea. "It was when I looked at my 12 months' electric bills my first year and saw that I had only spent about $140 for the entire year," he said adding, "That excited me and set me on fire to help everyone I could do the same thing." Those efforts had a noticeable impact on his business. "As I helped more people reach their numbers and goals, my own business began to take off. It's hard to believe you can reach your financial goals by just helping others reach their goals," Tommie said.

Five EC Pieces
Our "Why?"
<?Strong>
Our "Why" is to help as many people as we can by introducing them to the Ambit Opportunity and helping them feel part of a successful and active team that can change our financial futures together.
Time spent working our Ambit business: We love what we do and we're lucky to get to do it 24/7. Anyone can do this business if they make up their mind to put forth a little effort and build for the future.
What was your single most-effective Success Tool, factor or influence for growing your business? Our most-effective Success Tool that helps us grow our business has to be the many local presentations and training events that are available to take prospective Consultants and Customers to. When you see the number and makeup of excited people at those events, there's no way you can't see the power of Ambit Energy.
Name your favorite thing about AMBITION: Our favorite thing about Ambition is seeing the number of excited Consultants from all over the world doing what we do best, connecting and growing by learning from each other. It gives you the feeling of being part of something that is life changing and extraordinary.
Thanks to the five SCs who helped us reach EC. Our heartfelt thanks and respect go out to the five SCs that helped us reach EC: Moises & Ana Ruiz, Steven and Vimary Nieves, Tonius Frank, Janis Davis, and Josafat & Alma Garcia.
---
Featured Consultant
At Ambit Energy, we're inspired, proud, and even awed by the success stories we hear from our Consultants every day. Learn what motivates some of our top Consultants, read why they decided that Ambit was the right company at the right time, and maybe even pick up some inspiring tips to help you build your own business and achieve a similar level of success!