Many "Happii" Returns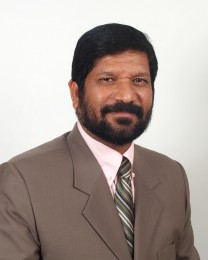 Born in Pakistan, Khushi "Happii" Mohammad Najmi came to America seeking greater opportunities. After reaching career highs, then weathering a business collapse and personal tragedy, he was able to start over and find unprecedented success through the Ambit Opportunity.
When Khushi first moved to the U.S., he knew very little English and had only $370 in his pocket. But he was determined to achieve great things.
"My first job was breaking concrete with a jackhammer for $50," Khushi recalls. "With hard work, I began to make great strides in business. Soon, I co-owned a network of gas stations and convenience stores, and piloted the check-cashing procedures currently seen in most convenience stores today. I felt very fortunate."
But then life took a hard turn. In the span of two years, Khushi lost control of his business, faced skyrocketing debt and found himself without steady income. During that time, his wife - whom he had met and married in the States tragically passed away. Khushi needed something positive in his life.
A Spark of Opportunity
Khushi recalls, "While I was helping a friend at a local Indian-Pakistani store, Senior Consultant Dr. Narendra Punjabi explained how I could get cheaper electricity;my savings would be close to $100 dollars per month. This made sense to me. Dr. Punjabi then asked if I would rather save $1,000 dollars a year or earn $1,000 dollars a month. My answer was, of course, 'earn $1,000 dollars per month - but how?' He answered, 'Show other people how to save money, like I just showed you.' And that's just what I did."
The Ambit Energy Difference
"The more I learned about Ambit, the more I was impressed," Khushi says. "There is no inventory, no liability, no delivery, and no recovery;only peace-of-mind that no one would break into my store in the middle of the night, and no partner would trick me out of my profits or my business."
"What's more, Ambit would never let me run out of electricity, which happened occasionally when my stations ran out of gas and we had to wait for new supply to continue our services."
"I work my Ambit business part-time, and it's so fun. I enjoy talking with people, a skill I've practiced often. Sometimes I just get the itch to share this Opportunity with everyone around me, and it's hard for me to keep my mouth shut - so I don't!"
Building A "Happii" Family
"My name, Khushi, really does mean 'happy' in English. I playfully spell my name 'Happii' so I can tell people that the letters stand for 'How A Person Produces Infinite Income', and I call my team 'Happy Family.'"
Khushi admits, "Managing a team is a little like herding cats, because everyone wants to go their own way, so I try to uplift and redirect them to the excellent training Ambit offers. I have brought some of my best friends into Ambit, and I want to see them succeed. In fact, some of the people I have shared this Opportunity with are already Executive Consultants, and I am so proud of them!"
Big Dreams On The Horizon
What's next for "Happii?" "I have my sights on becoming a National Consultant and want to see some of my SCs become ECs themselves," he says.
"My friends who knew of my recent losses have been a tremendous support. And throughout, the Ambit Opportunity kept me occupied, gave me hope and helped me rebuild my dream. That's why I fully expect to make enough money to start a charitable organization called 'Happy Dreams Home' to help others who are hopeless, dreamless and homeless change their lives. Ambit is giving me that Opportunity."
Advice For New Consultants
"One of the key bits of advice I would share with new Consultants is to make personal growth a priority. Read or listen to spiritually uplifting and entrepreneurial books and tapes every day. Also, make sure you conduct your business with integrity and learn to be an Inviter, not a Presenter," says Khushi.
"My coach and upline, Steve Thompson, once told me that people are P-O-O-R because they 'Pass Over Opportunity Repeatedly.' On my own, I concluded that these same people could instead choose to be R-I-C-H, which stands for 'Receiving Information, Changing Habits.' My hope for all new Consultants is to be rich!"
---
Featured Consultant
At Ambit Energy, we're inspired, proud, and even awed by the success stories we hear from our Consultants every day. Learn what motivates some of our top Consultants, read why they decided that Ambit was the right company at the right time, and maybe even pick up some inspiring tips to help you build your own business and achieve a similar level of success!