Motivated by Ambit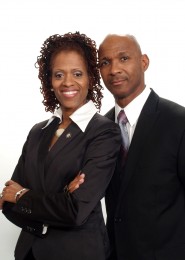 Shantee McPhee was a full-time hospice RN who also worked part-time on-call for a nursing agency, was the owner of an assisted-living facility and a Zumba instructor. Mark works for a well-known company traveling extensively throughout the United States as a remote tester.
She was motivated to join Ambit when her husband was given an assignment by his employer in Arizona for two months while in Denver completing another two-month assignment. Shantee decided she didn't want any employer to have control over her or her family's time again.
Discovering achievement
"Being part of the A list in 2011 and top recruiters for the state of Maryland and Washington, D.C. in 2012 is the accomplishment I am most proud of. Furthermore, I was able to resign from my full-time and part-time jobs. My husband and I made a conscious decision that it would be better to quit my job now then to work for another five years because we understood residual income and that energy is a commodity. Because of this drastic lifestyle change I am now able to home-school our son," Shantee said.
Her experience with Ambit enabled her to realize strengths she has as a leader. The experience has placed her in a position to be exposed to other like-minded, successful leaders inside and outside the Ambit organization.
"We have developed so many awesome relationships within our Ambit family that have inspired, encouraged and challenged us to become better. Overall, each experience has definitely added a sense of value to our growth as leaders," she said.
She has helped team members and other consultants by investing time helping them grow as individuals and grow their business through self-development.

"We have been blessed to team up with a phenomenal group of leaders within the Ambit organization that meet in Owings Mill, Maryland where we are providing weekly training presentations to help others. As a result, several consultants have been promoted and our teams have grown exceptionally well," she said.
As Executive Consultants, their plan is to continue serving others with integrity, commitment, confidence and encouraging self-development. They plan on conducting business presentations in Maryland and look for other ways to expand their business in other Ambit territories.
Looking forward
"We are always striving to reach higher goals. Some of those goals include becoming a top 30 income earner, becoming a member of the executive board with Ambit, being featured in the "Success from Home" magazine and winning a 5-star trip," Shantee said. Shantee is driven to become a National Consultant and plans on stepping out of her comfort zone to do so. She has joined new organizations and ministries in order to share the Ambit opportunity with more people.
Professionally the couple envisions a future as multi-millionaires with Ambit Energy. Personally they feel committed to live out our mission by helping build the Kingdom of God, giving more to the poor and needy and traveling throughout the country as Family Life coaches.
Advice for others
Do not deviate from the system that Ambit has created. Be a sponge and absorb as much as you can be surrounding yourself with positive like-minded individuals who see the true vision of Ambit energy. Develop a never quit philosophy.
Our "Why?"
Our why is to completely fire my husband's boss.

Time spent working my/ our Ambit business:
We spend about 15 hours a week working our Ambit Business.

What was your single most-effective Success Tool, factor or influence for growing your business?
Meeting with people on a one –on- one basis has been the most effective method for growing our business.
Name your favorite thing about AMBITION:
Meeting new people and learning from other consultants in the Ambit family is my favorite thing about Ambition.
Thanks to the five SCs who helped me/ us reach EC.
Shawna Holden, Thomas and Cora Rose, Titus and Valerie Nelson, Lamar White, and Terry and Tina Tunstalle
---
Featured Consultant
At Ambit Energy, we're inspired, proud, and even awed by the success stories we hear from our Consultants every day. Learn what motivates some of our top Consultants, read why they decided that Ambit was the right company at the right time, and maybe even pick up some inspiring tips to help you build your own business and achieve a similar level of success!