Moving to the Beat of His Own Drum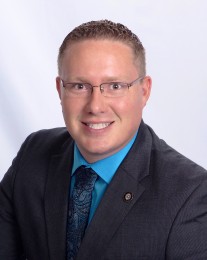 Blake Hunter has owned and operated a DJ and audio/visual company since 2003, and worked hard to keep his business going. Even though he's had success and enjoyed his work, Blake had to make a change. With his 5-year old daughter, Kylee, at home, working nearly every night until 3 a.m. wasn't what he wanted.
"I was not getting to spend as much time with my daughter as I'd like," he explained. "I knew I wanted a way out of working so much."
Although it took more than two years for Blake to embrace the Ambit Opportunity, he finally took his friend Bobby Aymes' advice. Learning about Bobby's journey to being a successful Executive Consultant with Ambit was the motivation Blake needed to pull the trigger.
"After seeing how Bobby had retired from being a HVAC tech and was on his way to Financial Freedom, I was all in," he said.

Climbing the Charts
Soon, Blake's minimal time investment into his Ambit business began paying dividends. He knew the importance of soaking up knowledge from his upline, and used that information to his advantage.
"I listened to my leaders and followed the system," Blake said. "I worked the business part-time and, with only 3-5 hours per week devoted to Ambit, I fast-tracked to Regional Consultant in 19 days. Just 90 days later, I became a Senior Consultant!"
Setting specific goals played a huge role in Blake's fast start.
"I am always working towards accomplishing my Vision Board goals," he said. "My personal goal was to become an Executive Consultant before my 30th birthday, which I was able to achieve the day before I turned 30."
Because of his rapid success, it wasn't long before Blake was able to quit being a DJ full-time. Now he's able to spend more time with his daughter and concentrate on his Ambit business. Those long nights are a thing of the past.
"With my determination and consistent effort, I was able to retire from spinning and playing music in the clubs," Blake said. "Now I'm just doing special events on Saturdays for extra cash."
Becoming a Number One Hit
Like all successful Consultants, Blake figured out quickly the key to building a strong Ambit business.
"I love how you succeed with this company by helping others succeed," he said. "I look forward to helping many more people achieve their dreams in the future."
The results have allowed Blake to pursue other dreams.
"Recently I was able to purchase a brand new truck and take a trip to Italy," Blake said. "This business has also allowed me to start building my lifelong dream of owning a wakeboard school on Lake Austin."
Blake's transformation from late night DJ to Ambit Consultant is a testament to the hard work he's put into changing his life, and shows his desire to make it to the top with Ambit.
My "Why":
Buying back my time and putting money away for my daughter's college.
Time spent working the Ambit business:
5 to 10 hours per week, including the Wednesday lunch BP that I also host.
The single most-effective success tool, factor or influence for growing your Ambit business:
The three-way call!
My favorite thing about AMBITION:
Getting the opportunity to see how Ambit is changing the lives of people from around the country as well as the amazing recognition of top Ambit performers.
Thanks to the five Senior Consultants who helped in the journey to becoming an Executive Consultant:
Dr. Gerard Liboiron, Onaje Givan, Sean and Charu Robertson , Matthew Ekhart and Tracy Qualls.
---
Featured Consultant
At Ambit Energy, we're inspired, proud, and even awed by the success stories we hear from our Consultants every day. Learn what motivates some of our top Consultants, read why they decided that Ambit was the right company at the right time, and maybe even pick up some inspiring tips to help you build your own business and achieve a similar level of success!