My Vehicle to Financial Freedom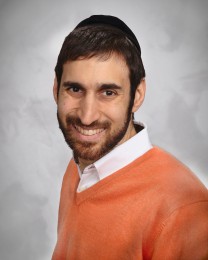 A community activist and volunteer for a Chicago-based first responders group called Chaverim (friends), Yosef Ben-Zev is no stranger to helping people. He's also spent time working with at-risk children in Chicago.
The son of a landlord, Yosef decided to forge his own path and became a realtor – which gave him the ability to help others find a home while maintaining a flexible schedule.

"I knew I didn't want to be woken up at 3 a.m. because a tenant didn't have heat," Yosef admitted. "So I became a real estate agent, which is essentially the best of both worlds."

Being able to manage his time at work is important to Yosef because he prefers to spend time with his growing family. He met his wife, Rachel, while the two were studying abroad in Jerusalem. Now they have six children – five boys and a girl – and are excited about their future together.
Making the Right Decision
Yosef's career in real estate left him yearning for more. He was looking for the freedom to expand his horizons outside of Chicago. Coincidentally, a friend from north of the border was determined to introduce Yosef to the Ambit Opportunity.
"My eventual sponsor, SC Mendy Bergovoy, flew into Chicago from Canada and took me to a presentation," Yosef explained. "I needed some convincing. If he hadn't flown in and come to pick me up, I wouldn't have gone."
Despite his initial skepticism, Yosef went to the meeting and saw firsthand the excitement of Ambit.

"The meeting was huge," he said. "This was after electricity deregulation was introduced in Illinois, and both Ambit Co-Founders were there, along with more than 1,000 people. I was curious to give it a shot."

Yosef was fascinated with Ambit's direction.

"What impressed me most was the leadership in place and the teamwork that brought the package all together," he said.

Ambit Blew My Mind
In the beginning, Yosef had very little expectations for what this new venture would provide.

"Starting out I was just curious if it would work," he said. "After just a few months, I was earning more with Ambit than my real estate business and I was only an RC. It blew my mind!"

"From the start, my family was right behind me," he said. "It helped my confidence and I discovered through Ambit that I really like public speaking."

The Best is Yet to Come
Even though he's accomplished many goals in a short period with Ambit, Yosef can't help but strive for more.

"I would like to help every new consultant become or find the next superstar," Yosef said. "I want to help everyone on my team who wants to advance in this business."
One of Yosef's biggest strengths is his servant's attitude. He's intent on helping others.
"My overall goal as an EC is to be able to help even more people achieve their goals and reach financial freedom," he said. "I see a very bright future."
With dreams as big as the Chicago skyline, it's clear that Yosef is just getting started and will continue to make his mark with Ambit.

My "Why":
My "Why" is my lovely wife and family.
Time spent working the Ambit Business:
I work 3-5 hours a week.
The single most-effective Success Tool, factor or influence for growing the Ambit business:
The teamwork help of my dream team; EC Shimon Kalyakov , my sponsor SC Mendy Bergovoy and my accountability partner SC Shaya Goldmeier
My favorite thing about AMBITION:
It's great to meet so many positive and happy people.
Five SC's who helped in the journey to becoming an EC:
Brian Weinstein, Gerry Ibarra, Samuel Benzev, Michael Shapiro, David Singer.
---
Featured Consultant
At Ambit Energy, we're inspired, proud, and even awed by the success stories we hear from our Consultants every day. Learn what motivates some of our top Consultants, read why they decided that Ambit was the right company at the right time, and maybe even pick up some inspiring tips to help you build your own business and achieve a similar level of success!