My Wife Said Don't Quit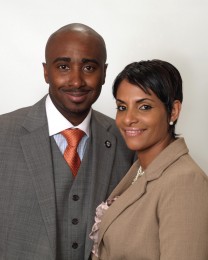 Tim Hunte was a real estate investor working in "corporate America." And he wasn't all that interested the first time he heard about Ambit Energy…or the second time…or the third, fourth or fifth time either. But for some reason, he was ready to listen the sixth time.
"Yes, six times!" exclaims Tim. "I knew something big was going on with Ambit, and I had to check it out. When I got home, I told my wife Yolanda about the possibility of joining Ambit."
But Yolanda wasn't convinced that Tim would stick with it. "Tim, you've started so many things and not finished," she implored him. "Please, just don't quit on this opportunity!"
So Tim and Yolanda started their Ambit business in January 2008 – and the timing couldn't have been better.
"WHAT A WIFE"
Two weeks before Christmas of 2008, Tim was laid off. "I was in total shock," he recalls. "I still remember going down the staircase of the train station in Manhattan, and calling my wife from a pay phone to tell her the news."
Although he felt like he let his family down, "Yolanda was totally supportive." She helped him maintain a positive outlook by reminding him of his decision to join Ambit. "What a wife!"
As the proud father of five children, Tim had his "WHY" – and promised to focus on his Ambit business. Soon, he saw that "Ambit kept their promise as well – paying Consultants residual income for the business they get going."
ALWAYS UP FOR A CHALLENGE
To keep themselves focused, the Huntes put up a vision board and drew up a road map. But for extra motivation, they attended a "Power Trip" event held by National Consultant and "Ambit's #1 Income Earner" Brian McClure.
Today, Tim still remembers McClure telling the crowd: "80% of you will not be here next year!" And Tim took that personally – "I'm always up for a challenge."
He noticed how many other leaders were advancing by "plugging into the system," and it became evident to him that "becoming a great leader meant becoming a great follower."
As Tim continued to grow his Ambit business, his wife Yolanda began to appreciate his dedication and consistency. As a show of support, she started to bring the whole family to all of his out-of-town meetings. And together, they watched as their checks started to get bigger. INTEGRITY AND PROGRESS
At Ambition 2010, Tim and Yolanda received the Pure Energy Award at Ambition 2010 for their passion, commitment and consistency. In addition, they qualified for the 5-Star Club trip to Mexico.
While they were enjoying their time in Mexico, the Huntes heard Jere Thompson say something that really resonated with them. He said: "As you begin to make money in this business, you want to do two things. First, you want to get out of debt. And second, pay your taxes."
Tim was extremely impressed with Jere's commitment to integrity, as well as his practical advice, including the fundamental building blocks for financial freedom.
"And it's working," says Tim. "My family should reach our goal of purchasing a new home by the end of 2012, and our financial outlook is better than ever!"
WHAT'S NEXT
"We're very excited about the future we're creating for our team and our family," says Tim. "Many people can achieve financial freedom just working Ambit part-time – and keep growing as Ambit launches state after state! It's a no-brainer!"
Although the path to success is clear, Tim stresses that "we're successful thanks to the success of others. It's about helping everyone on our team achieve – and we have such a passion to help others!"
For all of the best reasons, Tim Hunte is glad his wife said "Don't quit!"
---
Featured Consultant
At Ambit Energy, we're inspired, proud, and even awed by the success stories we hear from our Consultants every day. Learn what motivates some of our top Consultants, read why they decided that Ambit was the right company at the right time, and maybe even pick up some inspiring tips to help you build your own business and achieve a similar level of success!