New Challenges, New Opportunities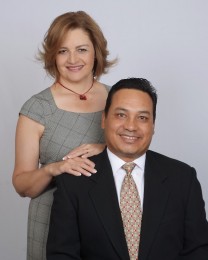 New Challenges, New Opportunities
An American company sponsored Jacinto Rivera's move to the United States nearly 20 years ago. Adapting to life in a new country was a challenge, but he, his wife Laura and their young sons soon got to know their neighbors and became involved in youth sports. They were excited about their opportunities in America, and it looked like the Rivera's lives were on track for an exciting future.
Then, after 13 years, the company Jacinto worked for was acquired by another firm. Due to organizational changes, he lost his job and had to start looking for a new source of income. Luckily for the Riveras, Laura was working at a furniture store where she was helping National Consultants Justin and Sherri Title furnish their new home. The Titles introduced the Riveras to the Ambit Opportunity. "We became good friends, and enjoyed sharing hobbies, but most importantly they taught me how to be a successful Ambit Consultant," Jacinto says.
The Ambit Advantage
"One of the big differences with Ambit is that it's a product you use every day instead of one a company needs to improve or replace to keep Customers interested," Jacinto says. He also believes that Ambit's extensive support system played an important role in his success. "Almost any challenge you can think of, somebody in Ambit has already confronted—you can always go back to your upline and learn from them. They are always ready to help you."
Of course, Jacinto was also motivated to learn and succeed by his "Why." For him, that was his two sons. "I don't just want to provide for them, I want to teach them how to have their own business with Ambit, to be great people and the importance of helping others." For Jacinto, one of the best things about Ambit is that it is rooted in the philosophy of helping others.
The Next Challenge
Of course, Jacinto hopes to become a National Consultant. But he's set another, more important goal for himself. "I'm planning on giving the best advice and sharing my experience with anyone who requests it. It's a different perspective on life when you wake up every morning and think that your goal is to help somebody."
With that attitude and proven track record of success, it's likely that Jacinto will achieve his goals, and help many others to reach theirs.
Five EC Pieces
(please keep your answers in this section brief - no more than one short sentence)
My/ our "Why?"
Our family.
Time spent working my/ our Ambit business:
Time is irrelevant when you are acquiring a dream, your availability and desire will dictate your dedication

What was your single most-effective Success Tool, factor or influence for growing your business?
Telling stories about successful Consultants.
Name your favorite thing about AMBITION:
Get to know people and good energy from everybody.
Thanks to the five SCs who helped me/ us reach EC.
Infinite thanks to our SC's, this wouldn't be possible without their success, let's keep working for the next promotion.
---
Featured Consultant
At Ambit Energy, we're inspired, proud, and even awed by the success stories we hear from our Consultants every day. Learn what motivates some of our top Consultants, read why they decided that Ambit was the right company at the right time, and maybe even pick up some inspiring tips to help you build your own business and achieve a similar level of success!