No Obstacles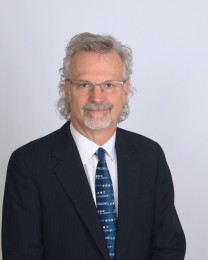 David Johnston has a successful career in IT, raised a family, is blessed with grandchildren, pursues a number of hobbies and has achieved the rank of Executive Consultant. He is also profoundly deaf.
"I am motivated by a quote from Stephen Hawking," he says. "That's 'Disability is not an obstacle to success.' I also really look up to my sponsor, EC Wojeich Paciorek, who is also deaf."
David was approaching retirement age, and he was looking for a business opportunity that didn't require a lot of start-up costs or inventory. And Ambit Energy seemed like the perfect fit.
Learning from Past Mistakes
Ambit wasn't David's first foray into relationship marketing. He'd tried with a number of other companies without much success. But he wasn't discouraged. "I view failure as a healthy, inevitable part of the process of getting to the top," he says. He expanded his circle of friends and acquaintances and found people who were willing to give his new business a chance. He also found that Ambit made it easier to do businesses than other companies.
"I was able to promote to SC in a year," he says. "I think that showed my sponsor I was serious and he jumped in to work with me on my path to EC."
Next Steps
David has achieved success, but he's far from finished. "I was told that I am the fourth deaf EC. I would love to see more deaf ECs and work with potential deaf leaders to help them promote." He also hope to expand his solar business and work with his team to help them achieve their goals.
His advice to others is simple. "Persistence. This not a money making scheme. It takes time to develop skills and build a business."
But as David proves, there are no obstacles hard work and determination can't overcome.
Five EC Pieces
Search any five chosen EC who are like me.
My/ our "Why?"
Able to enjoy my retirement, giving back, and traveling.
Time spent working my/ our Ambit business:
15-20 hours per week
What was your single most-effective Success Tool, factor or influence for growing your business?
Follow the system and listen to my sponsor.
Name your favorite thing about AMBITION:
Teamwork
Thanks to the five SCs who helped me/ us reach EC.
Cassandra Feltner, John Fenlon, Evengly Shirokly, Trevor Fenlon, and Lia Chapman.
---
Featured Consultant
At Ambit Energy, we're inspired, proud, and even awed by the success stories we hear from our Consultants every day. Learn what motivates some of our top Consultants, read why they decided that Ambit was the right company at the right time, and maybe even pick up some inspiring tips to help you build your own business and achieve a similar level of success!