No Time at All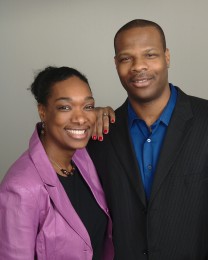 Sherell Slaise was a violist and volleyball player through high school and college. She always thought she'd be able to continue those activities after graduation, but "my aggressive executive healthcare consulting career ended both those hobbies due to a lack of time," she says. Despite outward success and a great salary, Sherell was stressed out and exhausted. She and a friend started a real estate brokerage firm, but that business declined when the housing market crashed in 2008. She sold real estate, and started a family with her husband Rahim, leaving her with even less free time. Sherell's views were also shaped by her experience with her mother, who had to work through great physical pain in her final days because she needed the money. "I knew I needed leveraged income, not just linear income."
So, despite being busy with business, taking care of one child and expecting another, when her father introduced Rahim and Sherell to Ambit, they were ready. "Rahim first saw the vision and what Ambit could provide, but I took action," Sherell says. "He wasn't particularly enthusiastic about my split focus, yet he supported me as I crisscrossed the city to share the plan while he took care of our babies. He'd say 'Show me the money and I'll get excited.' So that's what I did!"
Forward Together
Ironically, one of the most important moments for Sherell and Rahim came when they were apart. "Rahim went to AMBITION himself while I prepared to give birth to our third child," Sherell says. "That's when everything changed for him. He saw the big picture. We are now joined at the hip building this business together, forever."
Another major moment for the Slaise family was when Ambit moved into their home state of Ohio. Sherell spent four months away from her family working to help prelaunch the state, working to build a network of more than 250 Consultants. Not only did this help ensure a successful opening of a major new market, it earned the couple their first Five-Star trip. This success also showed Sherell and Rahim what they were capable of— "If we commit to a goal we can accomplish anything," they say.
As they move forward, the couple look forward to implementing intensive training programs for their team and to creating a culture of teams having call parties and other get-togethers in their homes.
Family Time
For Sherell, one of the biggest rewards of being a Consultant is that it gives her more time to spend with her family—although that can be a challenge, too. "I initially built the business in 15-30 minute increments between diaper changes and naps," she says. "Now I have more time between school pick-ups and meals." Despite these challenges, she and Rahim have worked together to build a team in Illinois, Ohio and Indiana. Their focus isn't on reaching NC, but on building their team and their income. Becoming an NC will simply follow from doing the little things right.
After all, time has proven that Sherell and Rahim knows how to craft and pursue a strategy for success.
Five EC Pieces
My/our Why
Providing a second income stream for our family and to allow flexibility in our schedule to spend more time at home with our three children.
Time spent working my/our Ambit business:
Sherell initially built the business in 15-30 minute increments in between diaper changes, naps, nursing/feedings and child births (smile). Now both, Sherell and Rahim, spend much more time building the business in between naps, school pick-ups, and meal times.
What was your single most-effective Success Tool, factor or influence for growing your business?
We are particularly grateful for the mentorship that we receive from NC Steve Thompson. To know him, learn from him, and be mentored by him daily as we pre-launched Ohio was the greatest gift to our business! We are TRULY grateful for his leadership and friendship.
Thanks to the 5 SCs who helped us reach EC
This promotion comes with gratitude and anticipation for what's to come with the incredible team we're building in Illinois, Ohio and Indiana. We can't wait to see what's next on our horizon! One thing is for sure…we will continue to build! A special THANK YOU and APPRECIATION to the five Senior Consultants that helped us promote to Executive: Milton Burt, Sherry Thomas, Greg and Daisy Williamson, Isabelle Glass, and Jeanette Fiadzoe. You each are ROCKIN LEADERS! It will be incredible to see you rise "to infinity and beyond!"
---
Featured Consultant
At Ambit Energy, we're inspired, proud, and even awed by the success stories we hear from our Consultants every day. Learn what motivates some of our top Consultants, read why they decided that Ambit was the right company at the right time, and maybe even pick up some inspiring tips to help you build your own business and achieve a similar level of success!