Not Afraid to Start Over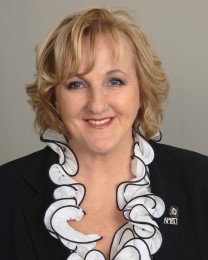 In her native Poland, Maria Kajmowicz was a professional nurse. But she gave up her medical career to join her husband in the U.S. and came here with her daughter and son. Unfortunately, her marriage ended, and Maria found herself a single mother with two children to support. She started working as a cleaning lady. "It wasn't my idea of the American dream," she says, "but I did my best." Her hard work eventually brought her enough customers that she was able to open her own cleaning service. Eventually, she even was able to become a real estate appraiser and own a number of rental properties. "I thought I was set for life and secure—I was wrong."
Maria knew she needed an income stream that was less affected by economic ups-and-downs. When a friend told Maria about energy deregulation, she was ready to take advantage of the Opportunity. "Everyone uses energy and I can even give Customers savings—it's a no brainer."
Maria signed up with Ambit.
Steady Growth
In the beginning, Maria had modest goals. "I just wanted some extra income—eventually a few hundred or a thousand dollars a month. Today, Ambit pays my mortgage, car payment, health, and spoils me with shopping restaurants and travel. I even started skiing at the age of 48."
Achieving this level of success didn't come easily. Maria wasn't fluent in English, her only relative in the U.S. wasn't interested in joining, and she didn't know anything about marketing or sales. She was afraid to speak in public, and never thought of herself as a leader. So she threw herself into meetings, trainings, events and conferences. After a year of watching Maria promote, her cousin changed her mind and is now a successful Senior Consultant in Maria's organization, as is Maria's daughter.
Still Wanting to Grow
While Maria is very proud of all she's accomplished, she still sees opportunity ahead. "I want to dedicate more time, to be able to sponsor more MCs personally. I plan to visit new markets regularly, especially Ohio and Maryland. I will travel state-by-state to build my Ambit business and help others."
And for Consultants who want to replicate her success, Maria recommends "Have a strong "Why" and work with a written list and plan of action every day. Be plugged in to the Ambit system and attend an event every week. And don't forget to follow-up."
Smart advice from someone who's really cleaned up with Ambit.
Five EC Pieces
My/ our "Why?"
Create a legacy and have an impact on the world

Time spent working my/ our Ambit business:
3-5 hours a day

What was your single most-effective Success Tool, factor or influence for growing your business?
Success from Home magazine, I carried it with me all the time EVERYWHERE and 3-way calls.
Name your favorite thing about AMBITION:
Networking with other successful Consultants and hearing their stories.

Thanks to the five SCs who helped me/ us reach EC.
SC Justyna Kajmowicz- my daughter
SC Irena Sowizral- my cousin
SC Maria Kuzdak -my best friend
SC Ewa Broda - my never quitting consultant
SC James Lotko –my pearl
---
Featured Consultant
At Ambit Energy, we're inspired, proud, and even awed by the success stories we hear from our Consultants every day. Learn what motivates some of our top Consultants, read why they decided that Ambit was the right company at the right time, and maybe even pick up some inspiring tips to help you build your own business and achieve a similar level of success!