Off-Season Opportunity for a Busy Family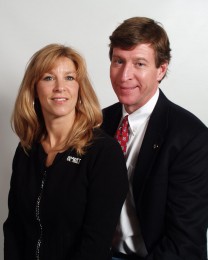 Jim Costello and his wife Jacqualine operate Costello Funeral Service in Alexandria Bay, New York. Because the town is near the St. Lawrence Seaway, Jim supplements his income by operating a hunting guide service in the wooded areas of upstate New York. During the turkey-hunting season of May, and the duck-hunting season that runs from September to December, Jim works his hunting business full-time. It was right after the fall guiding season ended that the Costellos' close friend SC Ted Weisberg introduced them to Ambit.
Surprising success
With three children, several rental properties and two businesses, the Costellos were only able to put a limited number of hours toward their Ambit efforts. "The nature and demands of the funeral business have to be handled appropriately and with much attention," Jim explains. "Plus the busy times of the year with our guide service are really busy. I honestly feel like we hit EC faster than expected."
Being part of a powerful team
For the Costellos, the rewards of owning an Ambit business go beyond money. "There isn't a new car or boat that's going to be the key to our happiness. We enjoy working together as a team to make this venture successful, and look forward to doing more in Ambit as our time will allow," Jim says.
In addition to working together as husband and wife, Jim and Jacqualine are thrilled to be part of the larger Ambit team. The team has meant everything, both up our line and down. Our early success was due to great training and mentoring."
An ongoing opportunity
"I see Ambit continuing to grow and prosper as never before. It is the greatest opportunity that has, or will ever, come your way. We are constantly reaching out to people to show the business to. These may be people we have approached previously, classmates from high school or college (years ago!), and even people whom we have just had the chance to meet. We are not leaving anyone behind, because you never know, until you ask, who may be interested in this business. The Costellos have a firm plan to become National Consultants, "We are focused on helping to develop leaders that emerge within our organization. Training and leadership are fundamental to the success of the team and we are devoted to being good teachers and leaders."

Our "Why?"
To create a pension that will allow us to educate our three children, build a retirement home on the St. Lawrence River, and have the option to retire by the age of 50.
Time spent working Ambit
25-30 hours a week on our Ambit business between the two of us, but it is on our minds just about every waking hour of the day.
Most-effective Success Tool, factor or influence for growing the Ambit business.
The credibility we have in our community and confidence in conveying the opportunity to others.
Favorite thing about AMBITION.
The opportunity to network and learn from other successful Ambit consultants.
Thanks to the five Senior Consultants who helped us become Executive Consultants.
Robert Docteur, Keitha Costello, Ken Wilson, Jon VanNest and Ken Carter.
---
Featured Consultant
At Ambit Energy, we're inspired, proud, and even awed by the success stories we hear from our Consultants every day. Learn what motivates some of our top Consultants, read why they decided that Ambit was the right company at the right time, and maybe even pick up some inspiring tips to help you build your own business and achieve a similar level of success!