On the Fast-Track to Retirement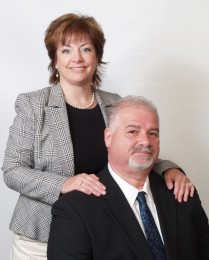 High school sweethearts, Luigi (Gino) and Anita Chiaravalle have been together for 31 years. During their 27 years of marriage, they've raised three beautiful daughters (Emily, Alyssa and Victoria) and have recently added a son-in-law (Christopher).
"We've been in business our whole married life," says Gino. "I started working in my father's restaurant at an early age, and I began to run it - and now we own it. Also, we recently purchase a motel in the heart of Lake George, New York, with plans of retiring into the motel business when we leave the restaurant business."
The Carpet Cleaner's Business
In 2008, Rich Schloss [now an Executive Consultant] came to the motel offering his services as a carpet cleaner. A year later, he returned to tell the Chiaravalles about a new business that he had just started - his Ambit Energy business.
"At the time, we were just opening our seasonal businesses," recalls Anita. "We weren't looking to add anything else to our busy schedule! Rich explained that his business was just starting, and although he was a Regional Consultant at the beginning, it was going to be huge. He proved it by coming back a week later as a Senior Consultant!"
Then, Rich showed Gino how his business was growing - his new Customers, the Consultants he had signed up, and the money he was making. That was all the Chiaravalles needed to see - and they signed up right away.
Working Like Crazy
At first, Gino and Anita worked their business sporadically. But in October, their businesses closed after their busy season. "And we hit the ground running and promoted to RC in a month," says Gino. "Right away, we enrolled our three daughters as Consultants! We started working the business like crazy and promoted to SC within a year!" The Chiaravalles are extremely grateful to the people in their organization. "We have a tremendous team of hard-working, independent business partners whom we've grown very fond of - and we look forward to spending many more years together in this business!"
The five Senior Consultants who helped them promote to EC hold a special place in their hearts: William & Monika Shouse, Scott & Nicole Richards, Rick Hayes, Kerie O'Connor and Mike Parisi. "We're also thankful to NC Philip Eckart, SC Chris Aiken, EC Bobby Bollman and of course, Rich Schloss," says Anita.
Heading to Early Retirement
Because their Ambit Energy business has exceeded their expectations by so much, the Chiaravalles have been able to shorten their retirement plan by 15 years. "That is huge!" exclaims Gino. "And it's the reason why we started this business - to spend more time with our family and retire early."
For new Consultants who want to follow in their footsteps, Gino and Anita have simple advice: "Stay on course, never give up, have your 'WHY' in front of you, and have a continuous list of prospects. And use your upline - they're there to help!"
---
Featured Consultant
At Ambit Energy, we're inspired, proud, and even awed by the success stories we hear from our Consultants every day. Learn what motivates some of our top Consultants, read why they decided that Ambit was the right company at the right time, and maybe even pick up some inspiring tips to help you build your own business and achieve a similar level of success!