On the Lookout for Another Opportunity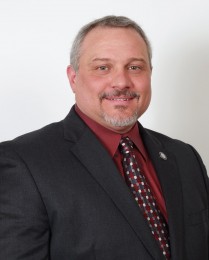 Executive Consultant Shaun Roberts spent four years in the Marine Corps before becoming a New York City Police Officer. While rising to the position of the Commanding Officer of the Office of Management & Budget, he found the time to get an MBA and to start a financial services company, a real estate holding company, and to participate in a number of other business ventures.
When the time came to retire from the NYPD, Shaun went looking for new opportunities. He joined the boards of a number of nonprofit organizations and worked as a guest lecturer for the MBA program at a leading business graduate program in the New York City area.
"I am always ready for a new challenge," he says. "I felt there was no better way to spend my 'retirement' than by building another business." And that's when he learned about AMBIT.
A valuable lead from a police partner
A friend who had worked with Shaun in the police department introduced him to AMBIT. "I was intrigued by the residual income on something unconsciously purchased and habitually used by everyone. It's like you own the patent on electricity and natural gas."
Shaun had high expectations when he started out, and he met them. "I expected to get my initial investment back, obtain my free energy credit, promote quickly through the compensation plan and create a residual income. With the help of some great partners, I have met my first three expectations and am on my way to the fourth."
For Shaun, freedom is the "why" that drives him to make his AMBIT business succeed. He has been married for 24 years and has two sons, two daughters and a grandson. He enjoys spending time with his family, as well as riding his motorcycle and scuba diving. AMBIT gives him the time to do that, as well as building a financial legacy he can leave for his family. As he puts it "Freedom is going the rest of your life without worrying about the cost of something, sending your children to any college they want and still having money left for the next generation." Moving forward with AMBIT
"I had many different plans for my companies before AMBIT came along—since then the plan is to downsize everything else and focus on AMBIT. I know what I started a short time ago will support my family and my future."Shaun also sees AMBIT as a team effort, and is both grateful for the help he has received and eager to help others. "I know my Partners count on me as much as I count on them. I have been lucky enough to help several Consultants meet their promotion goals.
"Stay plugged into the training, follow the system. Go to AMBITION. Above all, have the time of your life knowing that you are securing your future."
My "Why?"
Freedom, financial or otherwise
Time spent working my Ambit business.
I spend about 10-12 hours a week doing Ambit. Funny, you don't realize it because you just do it during other things.
What was your single most-effective Success Tool, factor or influence for growing your business?
Mentoring, you simply need to find a great mentor and watch, listen and learn.
Name your favorite thing about AMBITION.
I love the motivational speakers!
Who are your five SCs who helped you reach EC?
Michael "Socko" Rivas, Michael Patrella, Nick Abbate, Al Peteroy and Derrick Zechman
---
Featured Consultant
At Ambit Energy, we're inspired, proud, and even awed by the success stories we hear from our Consultants every day. Learn what motivates some of our top Consultants, read why they decided that Ambit was the right company at the right time, and maybe even pick up some inspiring tips to help you build your own business and achieve a similar level of success!