One Letter Changed It All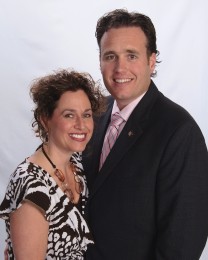 Marc and Christina Alfano knew that entrepreneurship was their destined career path. It was a family thing after all. "Christina and I both grew up in entrepreneurial families. They were mostly self-employed business owners," Marc said. Both Marc and Christina started in network marketing. They followed in Marc's Mom's footsteps who was the first to tackle the world of network marketing. She paved the way for the two of them. "She chose to ignore the naysayers that said it wouldn't work," Marc said. "And, she proved them wrong by moving to the highest ranks of that company."
The Letter "D" for Dream Life
It was a change in the economy that made Marc and Christina leave network marketing. Specifically, the events of September 2011 and as a result, changes at the company where they worked. "Changes at the company forced us to move into a new direction," Christina said. That new direction turned out to be a restaurant. Success wasn't far behind as the pair racked up awards for their prized menu item, the tiramisu. They claimed titles such as winning the Great Chowder Cook Off in Newport, Rhode Island, and for two consecutive years, Sweet Sunday in Pennsylvania. The couple lived what they called "a dream life" until as it's been before, change was knocking at their door again. This time it was the economy again, and they lost everything. They also received some devastating news. "This was also at the same time that we were told that we couldn't have children," Marc said. "It was a time of hopelessness, but our faith in God kept us focused."
They moved frequently for the next few years. Bouncing from state to state, patience was the key. They knew things would eventually turn around. When things turned around, they turned around in the form of a once-in-a-lifetime opportunity. That opportunity came in the form as the personal chef for country megastar, Kenny Chesney. An impromptu visit with a friend changed everything about that job though. That impromptu visit led to an offer from Heinen's Fine Foods, a regional grocery chain specializing in extraordinary cuisine, to stock their prized tiramisu in 17 of their stores. "We were back! We quickly launched Christina Maria's Tiramisu," Christina said. They knew that things were about to change, but they had no idea when or how much.
First Letter of the Alphabet
At the turn of the century, Donoto and Santo Alfano came to the United States. They were told in order to be successful in America that they needed to change their name. So, they did. Donoto and Santo Alfano became Don and Sandy West. "In 1999, I changed my name back to Alfano," Marc added because he felt it was necessary. "I felt I needed to change my name to walk in my birthright." Alfano became the key to the reason he discovered Ambit. "The only reason I got to hear about Ambit is because I was the first contact in my sponsor's phone," Marc said. He believed that his name change was for reasons other than those he knew at the time.
"Everything happens for a reason. My name starts with n A now, not a W. There are no mistakes," Marc said. It was six days after the call that they promoted to RC, then fast tracked to SC. It was indeed a momentum shift.
Marc and Christina's first meeting was nothing short of impressive for them. "I was totally impressed with the transparency of Jim Mason. He made me dream again," Marc said. But, there was one thing missing. Why were they starting another business? They didn't have a why that night, but quickly found out the next day. "We got our 'Why" the next day. We found out we were pregnant and having a son," Marc said. The two considered Ambit a gift from God just like the gift of their son.
"C" is for Comma Club
There are many of the Alfano's achievements worth noting. They've received the SC Dream Team award and the Pure Energy award. The Comma Club is another one, but even with all of the success it wasn't always an easy road. "We had a mix of reactions from friends and family. That's okay. Not everyone gets it," Christina said. There was a point where they almost quit. They even called to cancel their website. "They told me that I'd paid for the website the day before, so I decided to give it another shot," Christina said. That other shot led to their move to the next level in six days. That phone call to cancel the website was quickly forgotten as they started their climb to the role of Executive Consultant.
The Alfano's believe their story isn't special or uncommon. They use their road to EC to inspire their team. "Becoming an EC is an asset to them because it proves it can be done. If we can do it, then they can do it too" Marc said.
Five EC Pieces
Our "Why?"
To retire our son before he is out of diapers. To have the ability to help others and give generously.
Time spent working my/ our Ambit business:
As much as possible while working a full-time business and raising a 2-year-old.

What was your single most-effective Success Tool, factor or influence for growing your business?
Attending every Ambit event listening and watching others succeed.
Name your favorite thing about AMBITION:
The people you get to know and their personal stories. Sometimes the best things happen in the lobby of the hotel at 2:00 a.m.
Thanks to the five SCs who helped us reach EC.
James and Carol Richey, Denise and Ron Bredie, Don and Rachel Secura, Lisa and Troy Shriver. We would also like to thank Rob and Rhoda Malone, without them we couldn't have done it. Lastly, we want to give special thanks to Steve and Lilly Turk. Steve passed away last year, and he was an important part of our team.
---
Featured Consultant
At Ambit Energy, we're inspired, proud, and even awed by the success stories we hear from our Consultants every day. Learn what motivates some of our top Consultants, read why they decided that Ambit was the right company at the right time, and maybe even pick up some inspiring tips to help you build your own business and achieve a similar level of success!