Family Matters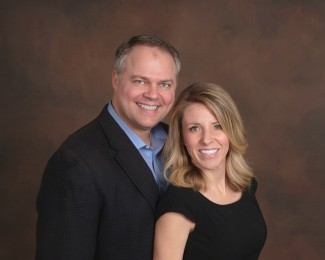 Financially, life was good for Ryan and Sarah Gould. Ryan earned enough from his job in the automotive industry that Sarah was able to stay home with their three daughters and they lived a comfortable lifestyle. But they still paid a price.
Ryan worked 70-80 hours a week, leaving him little time to spend with his family. The Goulds had no time to indulge in their love of travel and Sarah had actually wondered aloud "How long can we go on like this?"
It was then that Ryan's father called from New York to talk to the couple about a business opportunity.
Making Their Move
After seeing the business presentation, the Gould's knew Ambit would be a smart move for them. But they saw one obstacle—they lived in North Carolina, where Ambit is not available.
"We called Ray Montie and asked him what he thought we should do. He said 'Have you considered moving?' We'd been in North Carolina for 16 years, but we couldn't let this opportunity get away. Within three weeks we moved to Connecticut," Ryan says.
A Family Success Story
By joining with his father, the Gould's were able to assist in achieving the goal of allowing Ryan's mother to retire early. They were then able to focus on their goal of buying back their own time. "We've earned back about 30 hours a week already, and expect to earn even more," Sarah says.
Of course, the Gould's success extends far beyond their immediate family. Ryan says "We share openly with our Consultants what we did wrong and what we did right so they can grow their businesses even faster than we did."
The Goulds have set a goal of helping 100 Consultants get into the Comma Club, supporting their belief that the best way to get ahead in Ambit is by helping others succeed.
Family Time to Come
In the future, the Goulds look forward to traveling together as a family, taking part in mission trips and maybe buying a lake house to spend time together.
"We look forward to not having to stress about money for college, weddings and retirement," Ryan says. "We want to enjoy the good life while helping others to do the same."
The couple has advice for those who want to build a successful Ambit business. "Write down your vision of what you want and don't look back. Keep your eye on your prize until you have it, then set another goal."
It's a method that's worked well for these very successful members of the Ambit family.
Five EC Pieces
My/our "Why?"
Freedom of time and money for our family and to help other who are willing to do what it takes to be free, too.
Time spent working my/our Ambit business:
10-15 hours per week
What was your single most effect Success Tool, factor or influence for growing your business?
Mentoring with mult-million-dollar-a-year earner Ray Montie, Success from Home magazine, Three-way Calls, Keeping it Simple and The use of Brian McClure's training videos.
Name your favorite thing about AMBITION:
The Co-Founders, Chris and Jere speaking and networking with the most successful business builders in the company.
Thanks to the five SCs who helped us reach EC.
Thanks to our entire growing team of people who want more out of life and are willing to do what it takes until they get it. It is a team effort and the only thing better than getting promoted is to see our team members promote faster than us! Thank you for your leadership. Let's keep making it happen… there are a lot of people out there praying for a better way and they need to know about this opportunity. See you at the top!
---
Featured Consultant
At Ambit Energy, we're inspired, proud, and even awed by the success stories we hear from our Consultants every day. Learn what motivates some of our top Consultants, read why they decided that Ambit was the right company at the right time, and maybe even pick up some inspiring tips to help you build your own business and achieve a similar level of success!