Opportunity in the Nick of Time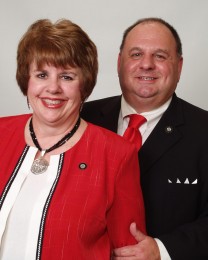 Native Houstonians Ralph and Ann Nicosia have always felt fortunate with thriving careers in the corporate world. But when unexpected life challenges arose, the Ambit Opportunity gave them both the strength to rebuild and the resources to succeed like never before.
Ralph, a veteran of the U.S. Marine Corps, built a 22-year career as a realtor and home inspector. Ann, his wife of 34 years, earned a degree in elementary education and had worked 23 years for Texaco before retiring to help Ralph run his inspection business.
In March 2008, friends from Georgia - SC Ken Compton (also their business coach) and SC Lamar Steen - called with an interesting proposition. Ralph recalls, "They said that they wanted to fly over and show us something that would help energize our income. That piqued our interest. Once they showed us the Ambit DVD, we enrolled on the spot."
The Ambit Opportunity Turns Safety Net
"When Ambit Energy came along, we weren't looking for anything," says Ralph. "We were happy;we had a nice six-figure income and were expanding our home inspection business. But we're very fortunate that we acted when we did."
In 2008, while attending their first AMBITION, tragedy struck when they lost their home to Hurricane Ike. "Losing our home while we were at AMBITION 2008 was quite a blow," Ralph admits. "We were slowed way down for about six months, rebuilding our business. However, we continued to work Ambit part-time, and even promoted to SC. Then in October 2009, Ann became ill and had to have four major surgeries in six weeks. Her recovery took six months. We resumed working again, and we're so glad we didn't quit."
Fortunately, with the help of income generated from Ambit, the Nicosias were able to rebuild their home and Ann was on the steady road to recovery.
"When we first signed up, we saw it as doing a favor for a friend that could potentially lead to a few extra hundred dollars a month," Ralph says. "But looking back, our choice to join Ambit was one of the smartest decisions we ever made - just in the nick of time."
"Plus with our residual Ambit income, I've been able to reduce my home inspections from ten to three each week, giving us more time to work on Ambit together." Outstanding Support from Friends and Family
"We've been lucky," says Ralph. "Many of our good friends and family signed up as Ambit Customers immediately, and later as Consultants. In fact, our close friends, Ginger Chachere and husband Robert Meyer became our first Consultants. We've had a wonderful time working our businesses together, promoting the same week to RC, SC and now EC. We're eager to see who gets to NC first!"
But often, support comes from closer to home. Ralph shares the story: "Ann's mom is 86 years old, blind and on hospice care, but that has not stopped her from telling people about Ambit. She has business cards on her dresser so when people enter her room, she asks them to call her daughter if they are interested in making money or saving money on electricity. She calls herself 'an Ambit Girl.' Her efforts have resulted in some great Customers and Consultants on our team."
Special Thanks
"We would never have achieved our goals without the help of our amazing team. We are grateful to NC David Spina and NC's Debbie and Chris Atkinson for all of their guidance and mentoring. The SCs that made it possible for us to reach EC are Sam and Kathy Schmick, Paul and Melba Goodman, Mark and Olivia Guerra, Roshaundra Grogan, and Irma and Tom Lyndon. We look forward to being NC's with these fine leaders."
Visions for the Future
Moving from early challenges to growing achievements, what goals do Ralph and Ann have for the future? "We aim to develop strong leaders and build our team," says Ralph. "We're focused and determined to become National Consultants. We're also looking forward to continued peace of mind and a spectacular retirement. Ambit is enabling us to have everything we've ever wanted or needed as we continue to help others get what they're dreaming of."
---
Featured Consultant
At Ambit Energy, we're inspired, proud, and even awed by the success stories we hear from our Consultants every day. Learn what motivates some of our top Consultants, read why they decided that Ambit was the right company at the right time, and maybe even pick up some inspiring tips to help you build your own business and achieve a similar level of success!