Overcoming Adversity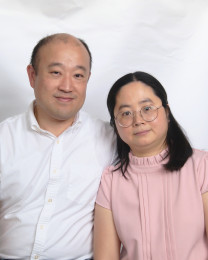 Yunguang Zheng, or Yun, and her husband Kawai Ng, or KA, were both working at Gallaudet University, a school that specializes in education for deaf students, when they learned about the Ambit Opportunity. Yun and KA are also deaf, but that has not stopped them from creating a successful business or achieving their goals.
When their friends recommended Ambit, the couple was impressed by the possibility of helping others save money on their electric bills and by the possibility to supplement their current income from the university.
No Stopping Them Now
Even though their families were not encouraging in their decision to join Ambit, Yun and KA wanted to prove to them that "we can, so anyone can!" They had negative experiences with network marketing companies in the past, but the guidance and help from their upline has proved just how different Ambit is.
While working their Ambit business, the couple has learned how to overcome their struggles and become confident leaders and communicators. They have been able to exceed their goals and are excited to reach their new goal of becoming National Consultants.
Titles Won't Change Them
Yun and KA hope to soon leave their full-time jobs and focus solely on their business. They want to maintain the Marketing Consultant mindset to ensure they continue to work hard for their success.
They want to encourage others to be patient and to never forget the importance of teamwork. "We are so thankful for our team leader and members. Without them, we might have given up!"
Time spent working our Ambit business:
During the weekends, mostly Saturdays, and a few nights during the week.
What was your single most-effective Success Tool, factor, or influence for growing your business?
Overcoming our weaknesses and never giving up!
Name your favorite thing about AMBITION:
Traveling and meeting with different people to learn from their experiences.
Thanks to the five SCs who helped us reach EC:
Daniel Hroncich (Executive Consultant), Luis Rosario, Saw Pe, James LaGreca, Joyce Chu
---
Featured Consultant
At Ambit Energy, we're inspired, proud, and even awed by the success stories we hear from our Consultants every day. Learn what motivates some of our top Consultants, read why they decided that Ambit was the right company at the right time, and maybe even pick up some inspiring tips to help you build your own business and achieve a similar level of success!