Painting a Masterpiece of Success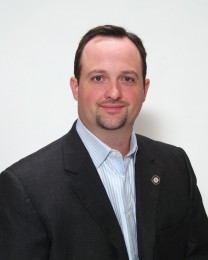 Darryn McClure attended Texas Christian University (TCU) in his hometown of Fort Worth, working his way up the corporate ladder in medical sales while building a real estate portfolio - all to secure his family's financial future.
"My greatest interest has been pursuing something entrepreneurial," he says. "But I'm very conservative financially. My wife cares for our sons full-time, so I've put my true passion on hold."
Darryn has a true love of art and Western oil painting, something he would like to focus on in the future.
"By building an Ambit Energy business, my dream of painting full-time may soon be a reality - thanks to the power of residual income."
THE ATTENTION-GRABBER: FREE ENERGY
"A good friend of mine, Chad Vermillion, asked if I was interested in an opportunity," he recalls. "I cringed, as I didn't want to get involved with network marketing…so I politely declined."
But one year later, the Ambit Opportunity came full circle when the McClures wanted to send their two-year-old to private school."My first thought is always finding an investment to pay for fixed bills. I told my wife that I'd buy another rental property near TCU, which would yield $300+ a month. It would be an investment paying for school, instead of $300 coming out of our pocket every month."
Vermillion asked Darryn how much his electric bill was. With his bill ranging from $300 to $500 a month (more than $3,600 a year), Darryn was intrigued by Ambit's Free Energy program.
TAKING ADVANTAGE OF THE OPPORTUNITY
"Our Opportunity isn't about selling a product or changing people's buying habits. You don't have to convince anyone to use electricity."
Every time he talks with someone about Ambit, "one or two things are going to happen. They're going to become my customer, or they'll see an amazing business model with the chance to earn residual income - and decide to become a Marketing Consultant!"
LOFTY GOALS AND HARD WORK
"My expectation from Day One was to be an Executive Consultant within one year," recalls Darryn. "I remember attending a meeting in Fort Worth hosted by the Spina family, and asking David how many ECs he had in his EC code. When he said 'none,' I shook his hand and told him that I'd be one of the five people to promote him to National Consultant."
Although he came close, Darryn missed his one-year goal by a mere 15 days. And he did become the second Executive Consultant on David Spina's EC team.
"I committed to showing the Opportunity at least once a week, to signing up a new customer every week until I received free electricity, and to asking at least one person a day if I could see his or her electric bill. And that's where it all started."
WORKING THE BUSINESS & THE TEAM
Once Darryn is making more money part-time with Ambit than he does full-time in medical sales, he plans to "hang it up with the corporate world." In fact, he's already built a strong team of Consultants. "We have doctors, lawyers, electricians, landscape artists, roofers, waiters and top business executives. I strongly promote TEAM in my Ambit business, and we all work together to build momentum."
In representing Ambit Energy, Darryn says that "conducting training and presentations with 100% accuracy helps my Consultants achieve their financial freedom - one customer at a time."
MORE TIME FOR FAMILY AND ART
"The power of part-time and Ambit Energy has changed my family's life financially for years to come!"
Darryn's passion for oil painting runs deep: "I've always dreamed of owning a gallery and being a full-time Western cowboy artist. But providing for my family is number one, so I thought painting would happen after retirement. But Ambit has paved the way for me to someday own my own Fort Worth Western Art Gallery."
THE "POWER OF PART-TIME" & MOTIVATION
For new Consultants, Darryn recommends consistency and patience. "The power of part-time is underestimated - even just a couple of hours a week can change your life."
And of course, he implores everyone to attend AMBITION. "I attended my first AMBITION in 2010 as a Senior Consultant, and I brought ten Consultants with me. Nine months later, those ten were responsible for more than 300 Consultants and 1,700 customers!"
As for pure motivation, Darryn McClure has taken his passion for his family and his art to turn his Ambit Energy business into a masterpiece of success! Return to Executive Suite Menu
---
Featured Consultant
At Ambit Energy, we're inspired, proud, and even awed by the success stories we hear from our Consultants every day. Learn what motivates some of our top Consultants, read why they decided that Ambit was the right company at the right time, and maybe even pick up some inspiring tips to help you build your own business and achieve a similar level of success!