Pursuing The American Dream
Thang Bui, Executive Consultant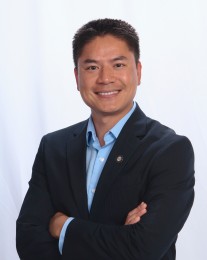 Thang Bui immigrated to the United States with his family as a child. At that time, they owned nothing and were trying to learn the English language. His family had faced poverty and sacrificed a lot for many years.
They came to the U.S. with the hope of achieving the American Dream.
"My parents worked hard to support me and my siblings," Thang said. "We, in turn, wanted to work hard and get an education and good careers so we can carry on that dream."
Prior to joining Ambit, Thang worked in the health insurance industry for 10 years. Thang always had the desire to work in a field or industry whose product or service would always be needed and beneficial for people.
"I thought to myself, 'What could be more basic than health insurance?' Now I come to find out that energy is even more so!" Thang said.
Ambit was appealing to me
Thang's brother, Thien, had told him about Ambit Energy in the past. However, when Ambit arrived in the western New York market in 2010, Thang decided to jump in and try it out.
"I figured, 'Let's try something new and help out my brother in his business as well,'" Thang said. "It's a win-win!"
Going into Ambit, Thang had very few expectations, putting faith in the fact that he would be working with his brother and that things would fall into place.
"I had no clue what to do since the market was so new," Thang said. "I didn't even know how to enroll myself as a customer."
I didn't give up
There was not a single, neatly packaged "Why" that forced Thang to keep going, despite struggling slightly at the beginning. From a business standpoint, he wanted to make his initial money back and get free energy, while hopefully bringing in a little extra money. However, as he continued on the journey and as he learned more about the business, he saw that there was more hope and opportunity than he could have ever expected or planned for.
"I realized that I can build something that would be a ticket out for not only me, but also for my family and team," Thang said. "I have to lead by example and charge ahead for them and with them."
Thang knows Ambit has been a blessing, which has given him the ability to be more independent and gain back some of his time.
"Plus, the bills are paid each month," Thang joked.
Thang, who has his MBA, had been immersed in corporate America. He was conditioned to think there is no other way to make money than to work hard for someone else.
Ambit has shattered all those myths to a million pieces.
"My vision for my future is clearer and my hope grows stronger each day knowing that I am not only earning more, but also becoming more," Thang added.
Moving forward, he plans to develop himself personally and grow his leadership skills, while also working to support his team. Thang will also keep his eyes on the prize of making it to the next level as a National Consultant.
My "Why":
To gain back my time and independence and help my family gain financial freedom.
Time spent working the Ambit business:
About 15 hours a week.
The single most effective success tool, factor or influence for growing the Ambit business:
Staying plugged into the system.
My favorite thing about AMBITION:
Learning from and connecting with other Consultants and leaders.
Thanks to the five SCs who helped in the journey to becoming an Executive Consultant:
It's not just five SCs for me, but an entire organization. I have to thank my brother Thien and sister Thu. Congrats and thank you to LoAnn Desmond, Don Burgio, John Bottone, Duncan Nguyen, Harry Dayton and Quang Nguyen and their teams.
---
Featured Consultant
At Ambit Energy, we're inspired, proud, and even awed by the success stories we hear from our Consultants every day. Learn what motivates some of our top Consultants, read why they decided that Ambit was the right company at the right time, and maybe even pick up some inspiring tips to help you build your own business and achieve a similar level of success!