Recognizing a Good Business Opportunity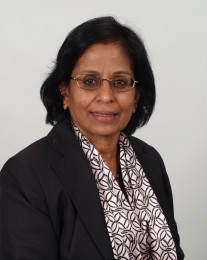 Visa Arumugham's strong business background meant she knew how to recognize an outstanding business opportunity. After all, she started running her family's yarn and cotton business immediately after graduating from college at the age of 20. Later, she worked at Merrill Lynch and Smith Barney, and then ran a successful landscaping company.
Two of her landscaping customers, RCs John and Samantha Phipps, introduced her to Ambit. "We were visiting a common friend who had burned his right hand severely at his contracting job! I was worried about his ability to get back to work and wanted to help them." Visa says. "I was impressed by Ambit's very simple business model and saw a chance to fulfill my lifelong dream of helping a lot of other people." That's when she signed up as a consultant.
Hard work and self-belief lead to success
According to Visa, getting started wasn't easy. "At first, my husband Raggy, an engineer, did not believe this would work. I decided to move this business as fast as I could. My friends got very excited and saw how fast I became an EC. Now, Raggy and my children are very proud of my achievement. He has attended AMBITION, and he talks to people everywhere we go."
Visa's hard work did more than just convince her husband that joining Ambit was a smart business move. "We have been successful beyond our wildest dreams! Once you focus and follow Ambit's proven system things become really simple. I have closed my other business and now work with Ambit full-time."
She advises new Ambit consultants to attend trainings and meetings, and always remember they are offering value to another person, not trying to sell them something at all!
The Ambit Advantages
Visa enjoys the fact her husband and she can run their business from anywhere, on their own time. "We have been able to travel, and no one knows whether I am enrolling them as customers from Dallas or Delhi."
"I get free electricity, and I get to do a favor to my client. My dream of helping needy Moms came true the day Yesika Hance and Elida Infante became my two SCs. Chitra Samal is like a family member. They all give me so much positive energy." Visa has her sights set on becoming an NC, "I ask new prospects whether they are interested in working hard for couple of years! I plan to expand in N.J. and N.Y., and create many new ECs on the way." She adds, "Always think of who you can help today. If we keep reminding ourselves to offer value to the OTHER person, there is going to be endless prospects for everyone!"
My "Why?"
Help as many as I can to take advantage of this incredible opportunity and get paid for doing so!
Time spent working Ambit
I never count hours I work. I just do as many hours as it takes to accomplish whatever is needed to be accomplished. Do we ever count how many hours we take care of Children? We love our children unconditionally. I do the same with my Ambit Business Partners .
Most-effective Success Tool, factor or influence for growing the Ambit business.
Consistent, persistent, focused effort produces explosive growth - Compound effect by Darren Hardy. If we want to succeed we need to recover our Grandparents' work ethic!When someone believes in you, you believe in yourself, miracles do happen! This is what Esther Spina did with me!
Favorite thing about AMBITION
"Saturday has a lot of new, exciting and business-changing announcements! You learn so much at AMBITION. I fully agree with the statement that as your income goes up, so does your belief level."
Thanks to the five Senior Consultants who helped us become an EC.
Gayathri Arumugham, Chitra Samal, Yesika Hance, Elida Infante and Karthik Arumugham
---
Featured Consultant
At Ambit Energy, we're inspired, proud, and even awed by the success stories we hear from our Consultants every day. Learn what motivates some of our top Consultants, read why they decided that Ambit was the right company at the right time, and maybe even pick up some inspiring tips to help you build your own business and achieve a similar level of success!