Recommitting to Success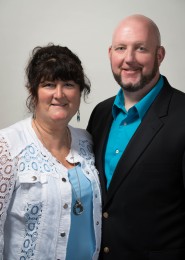 Dan and Donna Kardos were on track to reach EC when the Polar Vortex of 2014 hit their New York market. They lost Customers and Consultants, and, discouraged, stepped away from Ambit. The couple stopped attending trainings and meetings, and while they never completely gave up, their business limped along – until they got a call from their mentor, Kirk Horan. He asked the Kardos to commit to making a push to promote to help him make it to National Consultant. "We needed to make it happen not just for us, but for Kirk who had done so much to help us on our journey," Dan says. In fact, the Kardos were so motivated that they pushed to get their last 12 Consultants and 27 Customers in just two weeks!
"Kirk set a date for our promotion to happen," Donna says. "That was actually a good thing because it got us to focus again." Motivation, focus and the power of the Ambit Opportunity were all it took to help the Kardos get over their frustration and start moving forward again.
Looking to the Future
Dan is a building contractor and Donna is a massage therapist. "We both have businesses that require a lot of us physically," Dan says. "Neither of us can go on forever. Ambit allows us to cut back on our hours and do things we enjoy. Our goal is to have our Ambit income surpass our job income so we can retire." The couple continues to plug in to Ambit trainings and events, and is working on a new contact list. "It's almost like we're starting over," Donna adds, "but we're going to reach NC by continuing to do what got us to SC – showing the plan and helping new Consultants promote their business."
They've also learned from their mistakes. "I wish we hadn't gotten discouraged and that we had continued to build our business and attend meetings and trainings," the couple say.
Experiencing Rewards
Despite some regrets, the Kardos are grateful for the opportunities Ambit has brought them. "We've been blessed with great leaders we've learned from and become friends with," Dan says. Their Ambit income has allowed them to send their son to a private school and play travel hockey, and the couple has remodel a lakeside camp.
They also recommend the rewards of attending AMBITION. "Experiencing AMBITION and the level of belief and confidence it brought was the difference maker. We went back home and promoted to SC in three months!"
It all sounds like sound advice from a couple who is just getting started – and restarted – on the way to achieving their goals with Ambit.
Five EC Pieces
Our "Why?"
To reach financial freedom. Retire and know that our Ambit income will cover our bills. Pay for College of choice for Austin, travel, help others achieve their goals with Ambit.

Time spent working my/ our Ambit business:
It was very part time. A few hours a week showing the plan attending the local weekly meeting and we tried to attend all trainings within four hours of us.

What was your single most-effective Success Tool, factor or influence for growing your business?
I believe the most effective was the three-way call with a leader after viewing the video.

Name your favorite thing about AMBITION:
The positive energy and spending time with our Ambit family.

Thanks to the five SCs who helped me/ us reach EC.
Andy Alt, Janet Harner, Barbara Laird, Michael Hatter and Mike Filkins.
---
Featured Consultant
At Ambit Energy, we're inspired, proud, and even awed by the success stories we hear from our Consultants every day. Learn what motivates some of our top Consultants, read why they decided that Ambit was the right company at the right time, and maybe even pick up some inspiring tips to help you build your own business and achieve a similar level of success!