Redefining "Retirement"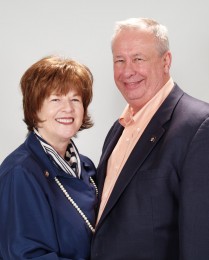 After 24 years with the Texaco Oil Company, Ginger Chachere retired in 1999. At first, she spent her time redecorating her house and with other typical retirement activities. Her husband, Robert Meyer, was out of the house working 60 to 70 hours a week as a vice president with a large financial institution. Eventually, Ginger took classes to learn trading stocks online, but she got bored with retirement.
"I wanted to do something interesting with my time," says Ginger. "And I was also looking for a way to retire my husband so we could spend more time together."
From Retired to Renewed
Ginger and her husband had been friends with Ambit Consultants Ann & Ralph Nicosia for more than 30 years, and one day in 2008 the Nicosias asked them to become their electricity customer.
"We signed up, and a week later I was having lunch with Ann when I saw how excited she was about Ambit," recalls Ginger. "I told her I wanted to be a Consultant under her, and my husband and I signed up that very Thursday night - even before we saw the Business Presentation!"
"Our Ambit team is absolutely great," claims Ginger. "They all try to help each other, and we all feel that we're one big family, all working together to be successful. We're there for them each day, and they know they can depend on us to assist them."
A Strong Vision for the Future
"We want to travel the world with other Ambit leaders," says Ginger. "We've gained so many positive friends who you just want to be around and share experiences with."
She remembers being impressed by "all the people we met, the system that was in place to build our business, and the possibility of true financial freedom!"
Sharing Success with the Next Generation
"Many of our friends were skeptical, but that didn't stop us from sharing the Ambit Opportunity with others who were looking for a financial opportunity."
Ginger and her husband are proud to be changing so many lives, and they're excited when they see others succeed - especially when it's their family.
"Our grown children, Terri and Mike Lewcun became Consultants, too. They were our first Senior Consultants in our SC code, and even helped us promote to Executive Consultants."
Getting Even More Serious
When Ginger and her husband first got into Ambit, they thought it was fun, but didn't fully appreciate it as a million dollar business. In April 2009, things changed when Robert was told he had to retire.
"We were in shock, but already had 'Plan B' in place with Ambit," says Ginger. "And as we continued to grow our business, we became more and more serious. Ambit was now 'Plan A' for our financial future."
One Big Family
Knowing that it's impossible to build an Ambit business by themselves, Ginger and Robert have worked to build a strong team.

On the business side, Ginger and Robert are striving to gather thousands more customers and to produce financial freedom for themselves, as well as their children and their children's children.
"I can see us becoming National Consultants by December 2015 - and helping many families save money and make money."
Never Give Up
Ginger recalls getting discouraged, but "Robert and I committed to never giving up and quitting this business - we're in it for the long haul. Stay plugged into the meetings and system!"
They also highly recommend attending AMBITION. "It's so important to have your team members attend AMBITION. It's like magic is in the air - you can feel the excitement, learn a lot, and meet people from all over the United States."
"You can even meet the leaders, spend time with them, and see how people from all walks of life can be successful in this business. You'll gain an understanding of how great our owners and leaders are, and strengthen your belief in the business that's growing every year!"
Our "Why?"
My husband and I have set our financial freedom goal and work to meet that goal each day.
How many hours a week do you work your Ambit business?
Early each morning we dress as if we are going to work at a business, establish our priorities, and list the actions we are going to take to grow our Ambit business. Our goal is to contact three individuals daily to look at our business.
What was your single most-effective Success Tool, factor or influence for growing your business?
We enjoy doing one to one presentations in our home, at a coffee shop, or at lunch. We find the most success sitting down with people and developing a relationship.
Name your favorite thing about AMBITION.
The guest speakers are our most favor part of the event, as each speaker has helped to develop our leadership abilities.
Who are your five SCs who helped you reach EC?
Mike & Terri Lewcun, Sherri & James Deloney, Joan & Keeng Eng, Boika Stoyanoff, and Harold & Brenda Meyer.
---
Featured Consultant
At Ambit Energy, we're inspired, proud, and even awed by the success stories we hear from our Consultants every day. Learn what motivates some of our top Consultants, read why they decided that Ambit was the right company at the right time, and maybe even pick up some inspiring tips to help you build your own business and achieve a similar level of success!