Retirement is Now an Option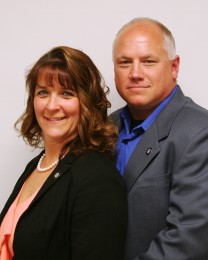 With two children, one in his senior year of college at Syracuse University and the other beginning her college career in the fall, Steve and Connie were working to make ends meet. The U.S. Postal Service has employed Connie for more than 14 years, while Steve is a self-employed electrician.
However, neither Connie nor Steve had a retirement plan in place — both planned to work for the rest of their lives. "When we looked at Ambit, we knew our prayers had been answered," said the couple.
Connie learned about Ambit from her boss, who gave her a Success From Home magazine, encouraging her to watch the DVD inside. "What impressed us the most was the fact that it was gas and electric. As an electrician, Steve knew electricity was something people couldn't live without," said Connie.
Ambit Made Retirement Possible
Before Ambit, retirement didn't seem like a feasible option for Connie and Steve Sunday. After starting their work with Ambit, the couple expected to work their Ambit business along with their other jobs, hoping to retire within five to 10 years. "After 19 months in Ambit, we are now having discussions about both of us being able to retire within the next 12 to 18 months," the Sundays said.
Not only is retirement in sight now, Connie and Steve have been able to buy a new vehicle for both of their children. "We now realize we will be able to be debt free in the very near future," Steve and Connie said.
We Now Recognize Our Strengths
It wasn't until Ambit that Steve and Connie realized they have a passion for speaking to a room full of people, which is much easier to do when you are speaking from your heart, the couple joked.
As consultants, Steve and Connie take their jobs seriously. "We make sure everyone on our team is well aware that we are here to help them accomplish their dreams," they said. "When we give our telephone number to anyone, we tell them they are only bothering us if they don't call, and we truly mean that."
"As ECs, we will continue to plug into the proven system and encourage our entire team to do the same," the Sundays said.
When Steve and Connie first joined Ambit, their friends and family told them not to join because their area was already saturated and that would just add fuel to the fire. "Most of those friends and family have now joined us in business, and for those who haven't, it's not too late," said the couple.
For Steve and Connie, passing on their success with Ambit seems like a no brainer. As a couple that once saw no rest from their day-to-day jobs, joining the Ambit team has helped turn life around for the Sundays — and the kids aren't complaining about their new cars!
"We see a whole new world for us, our children and their children," said Steve and Connie.

My "Why":
To spend every waking moment together
Time spent working the Ambit business:
Every possible second, it sure beats the old plan!
The single most effective success tool, factor or influence for growing our business:
Being able to work with Kim and Jim Mason
My favorite thing about AMBITION:
The meeting after the meeting
Thanks to the five SCs who helped in the journey to becoming an Executive Consultant:
Jason and Vicky Morell, Matt and Chicaga Bauer, Carter and Josie Mook, Dale and Cindy Applebee and Mark Winschel
---
Featured Consultant
At Ambit Energy, we're inspired, proud, and even awed by the success stories we hear from our Consultants every day. Learn what motivates some of our top Consultants, read why they decided that Ambit was the right company at the right time, and maybe even pick up some inspiring tips to help you build your own business and achieve a similar level of success!