Rising to Meet Every Challenge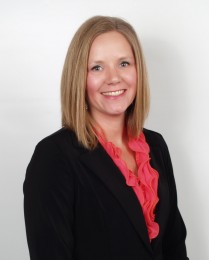 Janelle Cline was used to meeting challenges long before she became an AMBIT Consultant. She walked on to the basketball team at her university, achieved her goal of becoming a licensed professional engineer, and overcame the loss of her mother while she was eight months pregnant with her first child. And there was yet another challenge to come.
Right before she got pregnant with her second child, Janelle was in a car accident that left her with chronic neck pain , a horrible blow for a woman who was an active athlete and new mother. Even worse, doctors were unable to diagnose the source of the dizziness and imbalance that troubled her. After years of hearing it was all in her head, through sheer determination she finally found a physician who was able to diagnose her condition.
So when Janelle heard about an opportunity like Ambit, she wasn't about to let a little obstacle like living in Alaska get in the way. "I got a call from my mother-in-law who was visiting her sister Esther Spina in Texas. Esther had never mentioned AMBIT to us because we lived in Alaska, but I was interested because I wanted a lucrative business from home."
Long distance, long-term success.
"At first, I didn't really understand what deregulation was and how people could choose their own provider. But once I understood how it worked, I couldn't believe an opportunity like this even existed and figured I could at least make my car payment." However, Janelle quickly discovered she had underestimated both herself and the power of AMBIT. By the end of her first year as a Consultant, she was making enough money residually to consider replacing her income as an engineer for the Department of Transportation."Living in Alaska is a challenge, because it's so far away and it's not deregulated. Many people I tell about AMBIT don't believe they can do the business. But I keep plugging away because I have a vision for how big this is."
Janelle feels like AMBIT has given her the professional, entrepreneurial outlet she has always craved. "I love being a mom, but I need a professional outlet where I can strive. I feel like I can make my dreams come true, and soon my husband and I will be financially free."
How to engineer your success story
Janelle's experiences working in a remote, regulated state like Alaska have taught her many lessons she's eager to share with other Consultants. "Start conversations and build relationships with everyone you come across," she advises. "Follow up with them, because their circumstances may change. Do something for your business every single day." Janelle is proud of her accomplishments. "I feel like I have a very powerful success story. There were times I thought I just can't do this, it is too hard from where I live, but I stayed focused on why I was doing this business and my upline believed in me so I never quit. I feel like I have been through enough tough times to help others through theirs. With my success I have become very passionate about empowering others to achieve financial freedom and own their time, especially working mothers. AMBIT is fun and I love my business!"
For Janelle, the past has made her stronger. And her team and AMBIT is making her future brighter.
My "Why?"
To be financially free for life and own my time.
Time spent working Ambit Energy
I have a 3 hour time change from CST so I sometimes get up at 5am to do calls, enter customers, follow up with prospects, and do the same on my commute to/from work and on my lunch break. Where else on earth can you make $945 during a half hour lunch? Simply awesome.
What was your single most-effective Success Tool, factor or influence for growing your business?
Success from Home Magazine and learning to 'tell' people about Ambit by building relationships.
Name your favorite thing about AMBITION.
I get the most from mingling with other consultants. I always learn a ton of new tips and ideas by talking with other consultants from all over the map.
Thanks to the five SCs who helped me reach EC.
Troy Olds, Linnea Wilson, Joe Brandt, Jeanie Rose Erickson, and Tim Lahr
---
Featured Consultant
At Ambit Energy, we're inspired, proud, and even awed by the success stories we hear from our Consultants every day. Learn what motivates some of our top Consultants, read why they decided that Ambit was the right company at the right time, and maybe even pick up some inspiring tips to help you build your own business and achieve a similar level of success!