Helping Out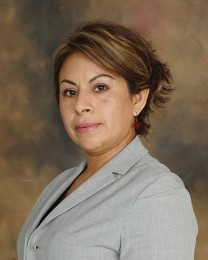 Helping Out
In the beginning, Rocío Enríquez's goal was simple—she wanted to earn a little money on the side to help out. Her husband worked hard, but his income was stretched thin supporting a family with four children. "I was looking to generate income in a quick and efficient way," she says.
She'd started working her own business, but it required her to give away her product for free. "I didn't like that idea," Rocío says. She heard about Ambit from EC Milton Tito and her cousin, but she was skeptical. Finally, though, she signed on with her sponsor RC Carmela Atempa. "I thought I was doing her a favor, not realizing I was doing a favor to myself," Rocío says.
Soon after starting, Rocío received her first check. "That's what made me think I could duplicate the success of my upline EC. I decided to take action, even though I didn't have any experience in network marketing."
From Housewife to Entrepreneur
"Ambit taught me to over come certain challenges. The things I have learned have made me strong in many areas of life." Rocío is proud to share her lessons with others. She works to help her Ambit family develop the skills they need to achieve success with Ambit and make their dreams come true. In her view, their success is hers.
"Ambit changed me from a housewife to an entrepreneur. Now I can balance my time as a mother, wife and business woman."
For Family
Rocío is excited about the future for her family and her Ambit family. "My kids were my motive, my reason, my focus and my positive when I got negative responses." At the same time, she has a vision for her Ambit family. "I want to get to National Consultant, and take my team with me," she says. "I want people to be excited to join my team."
She summarizes her Ambit experience succinctly. "Thanks, Ambit, for the lifestyle you offer me."
Five EC Pieces

My "Why?"
To provide quality time to my family. The well-being of my children and my mom who is a senior, spend time with them so they can have a better lifestyle.
Time spent working my Ambit business:
I have to divide my time between Ambit and being a a wife and mother and to taking my kids to school. Generally, I dedicate three hours in the morning and three in the afternoon to my business five to six days a week, for a total of about 30 hours a week.
What was your single most-effective Success Tool, factor or influence for growing your business?
Believing in myself, proving to myself that I am able, having faith and repeating to myself "I can do it". Being honest with myself, so I can show that honesty to my Customers. "Because Customers are first". Being surrounded by people with a better vision than mine, showing what I have learned in the weekly presentations. And taking action with practice, because with practice you get results. The influences for me are the Customers and Consultants because without them I would not have the desired results. Not leaving people behind, people from which I learned, the leaders from Chicago.
Name your favorite thing about AMBITION:
Getting to know successful people from different states, listening to their motivational testimonies, in that way I learn and practice, because by practicing I learn more. I am thankful for being able to socialize with successful people, "the association is the key" AMBITION is where my vision is expanded to where I will be in the next years.
Thanks to the five SCs who helped me reach EC.
I am happy and thankful to my sponsor Carmela Atempa because she put me in this path of network marketing with Ambit Energy. And consequently met people that have contributed value to my life: SC Catalina and Ruben Barrios, SC Manuel Ortiz, SC Nancy Velazquez and Jose Rios, SC Angela Arrazola and SC Sandra and Carlos Angiano.
---
Featured Consultant
At Ambit Energy, we're inspired, proud, and even awed by the success stories we hear from our Consultants every day. Learn what motivates some of our top Consultants, read why they decided that Ambit was the right company at the right time, and maybe even pick up some inspiring tips to help you build your own business and achieve a similar level of success!