Rocking With Ambit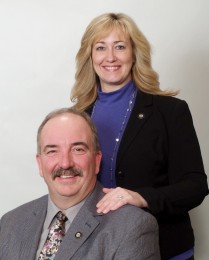 James and Susan Simek own a business supplying sand and gravel to the construction industry. While the business enabled them to support their family and send both daughters to college, it was hard, time consuming work, with the pair logging as much as 100 hours a week between them at work. They had no time to relax with each other, let alone with friends.
That changed when a customer showed them about Ambit. At first, James and Susan only signed up to help their friend get his own business off the ground. Soon, though, they realized that Ambit could be their own ticket to financial freedom. "Our lifestyle has changed so much now that we can spend time doing the things we love to do—skiing, horseback riding, vacationing," says Susan. "We see Ambit as our 'Win for Life' lottery ticket."
Building Their Business
Like all business owners, the Simeks hit a few snags as they grew their business, but they stayed focused and kept working. "We learned professional development and continued striving for a better way," James says. "Our Ambit business helped us develop into leaders."
James and Susan feel their experiences make them better at instruction. According to Susan, "We love helping others by getting up and speaking at meetings and trainings. We love to help others with their personal development and it's great to see them grow." The couple believes that Ambit Energy is a great opportunity for anyone who is willing to work and follow the process. Today, they spend about 15 hours a week on their business and earn $5,000-$6,000 a month.
"Our lifestyle has changed so much we can spend time sharing the opportunity rather than work so many hours at our jobs. We truly do have an Ambit family," James says. They also credit being on the cover of Success from Home magazine and attending AMBITION with helping to drive their success.
Moving Ahead
As they move ahead, the Simeks hope to build their business globally. "We are taking time to train our new consultants right—teaching them to gather their customers and for them to teach others to do the same," Susan says. "We are teaching them to dream, believe and achieve their goals!"
"We see ourselves achieving new heights with our financial freedom, spending more time building our team and helping others achieve their dreams," adds James.
Given their track record of achievement, it's a vision that is likely to come true as the Simeks work toward their goal of becoming National Consultants.
Our "Why?"
Our why is to spend more time with family.
Time spent working our Ambit business:
About 15 hours/week.
What was your single most-effective Success Tool, factor or influence for growing your business?
Being on the cover of the Success from Home magazine.
Name your favorite thing about AMBITION:
Seeing the success of others which, in turn, increased our belief level.
Thanks to the five SCs who helped us reach EC:
Mike Galletta, Cash McNeil, Frank & Sarah DiGioia, Valerie Duran, and Brian Brennan
---
Featured Consultant
At Ambit Energy, we're inspired, proud, and even awed by the success stories we hear from our Consultants every day. Learn what motivates some of our top Consultants, read why they decided that Ambit was the right company at the right time, and maybe even pick up some inspiring tips to help you build your own business and achieve a similar level of success!