Scripting a Story of Success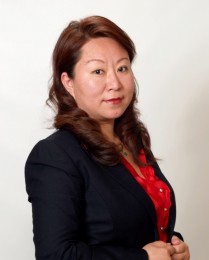 Jie Viviano graduated from university in Shanghai as a director, and worked for television in China for a number of years. But when she came to the U.S. in 2000, she found her limited command of English made it impossible for her to continue her work in TV production. Determined to be a success, she went to work in a restaurant, and eventually owned her own eatery. But she was still far from achieving the level of success she had back in China.
Eventually, she returned to college and got a degree as well as a new job working in marketing for the New York Hospital of Queens. But Jie still felt she could do better. In January, 2011, her friend Susan Zhang asked Jie to attend a business opportunity in Bayside, New York. At first, Jie was skeptical. She asked her friend "You're a music PhD., and a renowned musician—why do you have to get involved in this business?" But Susan told her that Ambit was just too good an opportunity to miss.
"I went to the Bayside meeting, and I got so excited I signed up right after the meeting! What a great opportunity. I lost sleep that night, I was so certain I was going to have a bright future for my family and myself," Jie says.
Taking Care Of Business And A Family
At first, working her Ambit business was hard for Jie. Not only did she have to work her full-time job at the hospital, she also had a two-year-old son to take care of. As a result, she was only able to devote about 20 minutes a day to her Ambit business. However, by maximizing her time using tools such as the Ambit website and effective networking with her team members, Jie reached Senior Consultant. "After that, I was able to put more time into Ambit," she says, and worked four or five hours a week on her Ambit business, which continued to grow. "Working on Ambit became a joy," she says, and by May of 2012 Jie had reached the rank of Executive Consultant.
"My goal is to achieve financial freedom and to have more time to spend with my son and family, and I feel like Ambit is making that possible," Jie claims.
Directing A Successful Ambit Program
Jie is quick to credit her success to her upline and her downline and recommends working as closely as possible with both. She also suggest taking advantage of the tools Ambits provides, including the website, training videos and other materials.
"AMBITION is very motivating," she says. "Seeing the people who win awards, hearing the success stories, even being fortunate to receive two awards like I did last year—it all drives you to achieve even greater success."
From directing TV programs to running a successful Ambit program, Jie Viviano has shown she knows how to lead and set an inspiring example.
My "Why?"
Spend more time with my son and family and financial freedom.
Time spent working my/ our Ambit business:
In the beginning 20 minutes, after becoming an SC every day is a joy.
What was your single most-effective Success Tool, factor or influence for growing your business?
The Ambit website
Name your favorite thing about AMBITION:
Motivation & recognition, as I got two rewards last year.
Thanks to the five SCs who helped me reach EC.
Guiying Yang, Janet K So, Gen Shee, Xue Li, Jammo Chung
---
Featured Consultant
At Ambit Energy, we're inspired, proud, and even awed by the success stories we hear from our Consultants every day. Learn what motivates some of our top Consultants, read why they decided that Ambit was the right company at the right time, and maybe even pick up some inspiring tips to help you build your own business and achieve a similar level of success!