Serving the Ambit Way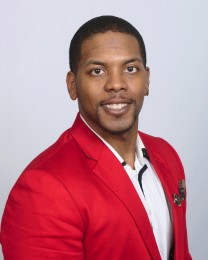 Jake Hughes lives his legacy each day in service to others. A noted gospel singer and minister, he divides his time between his ministry work and community health initiatives. He and wife, Laquita, freed up time from their full-time jobs after starting their Ambit business. This gave them time to focus, and make plans to expand, their daycare, ministry work and youth outreach program. All thanks to Ambit.
Family Ties
What started as a favor to his sister, Shuntriece, turned into a career that surpassed all of Jake's expectations. "In the beginning, I started in the business because of my sister." That start paved the way for his promotion to Executive Consultant, one he achieved in a short period of time. After 15 months, Jake promoted from Marketing Consultant to Executive Consultant. He admits though that it was hard work, and regrets not taking the Opportunity more seriously sooner. "I didn't even attend my first meeting until I was three weeks into the business," he says.
"The grind in this business is real and necessary to achieve a great promotional level like Executive Consultant, so I knew that it would take time, sacrifice, strategy and effort," Jake says. He notes his biggest challenge as he worked his way to EC was the time and consistent effort he needed to reach his goal. Those efforts paid off as he gathered support from other family and community members. "We also have a great amount of church and community support which connects with my 'Why' for what keeps me going in this business."
A Life of Service
Even with setbacks, Jake managed to move forward. "The mistakes helped me be a better leader and more knowledgeable about how to grow and build a business and team." That service and commitment to mentoring leads him to offer advice to new Consultants. "This is not the type of business that you should sit back on; start pushing in this business as soon as you get in." Even with a three-week delay in the business, Jake made up for the time by fast-tracking a legacy that builds on itself every day through his Ambit business and team.
Five EC Pieces
My "Why?"
Complete financial freedom so we can serve others
Time spent working my Ambit business:
All day every day

What was your single most-effective Success Tool, factor or influence for growing your business?
Consistency
Name your favorite thing about AMBITION:
The Announcements
Thanks to the five SCs who helped me reach EC.
Joseph Petty, Nick Bello, Michael Sims, Shundra/Clinton Gilkie, Brian Smith
---
Featured Consultant
At Ambit Energy, we're inspired, proud, and even awed by the success stories we hear from our Consultants every day. Learn what motivates some of our top Consultants, read why they decided that Ambit was the right company at the right time, and maybe even pick up some inspiring tips to help you build your own business and achieve a similar level of success!