Setting Goals, Achieving Dreams
Syed Taqvi, Executive Consultant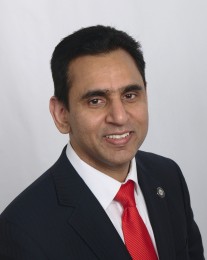 Syed Taqvi has always been a believer in setting high standards for himself. Working in retail in the Chicago area, he became the Number One seller of leather jackets in Chicagoland by 2006. But as the economy went in to decline, so did his stores' sales, and no matter how hard he tried the customers just weren't coming back. So he started to look for other opportunities.
"Piotr Luda showed me this business and I got very excited. I joined Ambit in January of 2012, and set my goals of becoming a RC in one week, SC in one month and EC in one year. Even though I missed all those dates, setting goals helped me. . I became RC in 9 days, SC in 1 month and EC in 13 months."
While Syed is currently doing Ambit as a part-time business, he plans to transition to working his Ambit full-time within a year. "I can see a bright future with Ambit," he says. He also credits his friends and family for his success. "They always believed in my ability. My wife and three children are my true cheerleaders. They are my reasons to be successful in this business."
A Payoff That's More Than Money
For Syed, the benefits of Ambit go far beyond earning a good living. "What I am becoming due to this business is far more important than money. I am becoming a better father, better husband, better friend and better person. Money is a byproduct of this." As he continues to move forward, Syed's goal is to become financially free and help at least 100 other people do the same.
To do this, he's setting new goals for his business. Syed plans on becoming a National Consultant in the next three years, in part by inspiring his own Consultants with his success story and to continue to recruit new Consultants who believe in Ambit.
Secrets To Success
For Consultants who want to replicate his success, Syed has a few pointers. "Anyone who is serious should attend AMBITION," he says. "Your belief level goes up, and you will meet successful people. You will feel that if this person can develop a business, so can I."
Syed tells every new Consultant that there are three keys to success with Ambit: believe in the company; believe in the product and its value to the Customer; and believe in yourself. With this firm grounding, he believes anyone can succeed with Ambit.
And as far as setting his goals? "I knew this business would work out but I did not expect it would be as good as it has. I look forward to spending a lot of time with my family and traveling around the world."
Just a few more goals that Syed Taqvi is bound to achieve.
My "WHY":
Complete Financially Freedom so I can spend more time with my family.
Time spent working the Ambit business:
Ambit is still part time business since I still have 3 retails stores to maintain. However Ambit is my priority. Like Brian McClure said. God, Family and then Ambit. I always follow his advice.

What was your single most-effective Success Tool, factor or influence for growing your business?
AMBITION is the single most important thing in my opinion. I would recommend anyone who is serious to attend Ambition.
Name your favorite thing about AMBITIONt:
When you attend Ambition or Simulcast, not only your believe level goes up but you will meet people who seems not as talented as you are but develop huge Ambit business. You feel like that if this person can develop this business so can I.
Thanks to the five SCs who helped in the promotion to Executive Consultant.
Nina Ashrafi, Sadruddin Noorani, Nisha and Tushar Chotalia, Faisal Rahi, Bobbie and Jeffrey Garber
---
Featured Consultant
At Ambit Energy, we're inspired, proud, and even awed by the success stories we hear from our Consultants every day. Learn what motivates some of our top Consultants, read why they decided that Ambit was the right company at the right time, and maybe even pick up some inspiring tips to help you build your own business and achieve a similar level of success!