Setting the Stage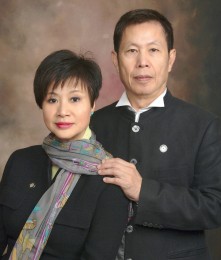 In their native Hong Kong, Yuk (C.Y.) and Hiu Kei (Rita) had achieved a high level of success. C.Y. owned an advertising production company that staged large events including International Fashion Shows, the Hong Kong New Year Parade and more, while Rita owned her own import/export business. However, life changed when Great Britain returned Hong Kong to China, and the couple immigrated to the U.S.
Once established in their new environment, they both went back to school and got degrees. However, they didn't really see the value in going to work for someone else. They started to look for a business opportunity of their own. "We had three major criteria," Rita says. "No big financial investment. We didn't want to be 'owned by the business.' And it had to be under our control. We knew about the headaches of being in a partnership. Of course, with such strict criteria, it wasn't easy to find the right opportunity."
Eventually, though, they heard about Ambit. And, while they were skeptical about the possibilities of direct marketing, they decided to stop by a Business Presentation by Henry Ye.
"We studied the materials, asked Henry some questions and found that Ambit met all our criteria," C.Y. says. The couple believed that Ambit could be the best business opportunity they'd ever encountered.
Taking the Lead
While they were excited and willing to work, success didn't come as easily as C.Y. and Rita expected. "We treated Ambit like another traditional business. We were frustrated by people who joined Ambit and quit after encountering a few objections and obstacles," they say. Despite the challenges, C.Y. and Rita continued working and learning. "We gradually realized this was truly a PEOPLE business," Rita says. "Our job was to educate Customers and Consultants and to help Consultants see the Opportunity. We engaged in personal development, used positive thinking to lead our team and encouraged them to strive for both time and Financial Freedom."
Once the couple discovered the key to success, they also found new strengths as listeners, cheerleaders and positive thinkers, abilities that helped them and their team grow and prosper.
Future Performance
Their current achievements only inspire C.Y. and Kei to strive for more. "We are now working on exploring the solar market in California," they say. "Also, we will continue to expand on the East Coast as well as in Texas, with a special focus on the Chinese community."
They advise new Consultants "Ambit is not a get rich quick scheme, but a real and solid business that takes time to build. Stay focused and believe to achieve." The two have set themselves a goal of helping at least five of their Consultants to join them as ECs as soon a possible.
By working together and persevering as a team, C.Y. and Rita have shown they are truly great performers.
Five EC Pieces
(please keep your answers in this section brief - no more than one short sentence)

My/ our "Why?"
Live our dream life by changing people's lives
Time spent working my/ our Ambit business:
We are actually working full time for Ambit business.
What was your single most-effective Success Tool, factor or influence for growing your business?
Supporting our team selflessly.
Name your favorite thing about AMBITION:
The compensation plan is a great system designed for people helping people.
Thanks to the five SCs who helped me/ us reach EC.
We would like to thank the five SCs who helped us promote to EC: Sok Leng Khor (CA), Charles Lee (CA), Mabel Fan (NY), Judy Xue (MA), and Alice Tang (MA).
---
Featured Consultant
At Ambit Energy, we're inspired, proud, and even awed by the success stories we hear from our Consultants every day. Learn what motivates some of our top Consultants, read why they decided that Ambit was the right company at the right time, and maybe even pick up some inspiring tips to help you build your own business and achieve a similar level of success!