Singing a New Tune
Jing Li, Executive Consultant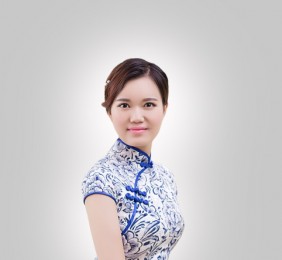 Time freedom for Executive Consultant Jing Li means more time to pursue her dreams of becoming a songwriter and musician. That's one of the reasons she accepted the Ambit Opportunity. Jing knew the road to starting her new business was going to be hard, but achievable. "The cold market is the only way for me to build my business," she said. "It's not easy, but it opens new doors for me."
Hearing the Vision
In less than 30 minutes, Jing knew her life was about to change. "My mentor, Jan Li, introduced our team leader, Henry Ye, to me and within 20 minutes, I realized it was a business with huge potential," she said. "I decided to join immediately." That quick choice turned out to be one of the highlights of Jing's life.
While her trek to the top hasn't always been smooth, Jing found ways to overcome the obstacles. "I wrote a lot of songs and motivational speeches, and my team gave me support," she said. Those motivational speeches uncovered a hidden talent. "Thanks to Ambit, I'm more comfortable with speaking in public."
Hitting the Right Notes
The 'Why' of Jing's Ambit business has never changed. "My 'Why' is to be a singer and songwriter," she said. "That 'Why' has never changed along the way." That's one of the reasons she shares the Opportunity with others. "If Ambit can offer time freedom and Financial Freedom for me to chase my dream, then I think I can help more people to realize their dreams."
The desire to help others has Jing looking forward to the next step in her Ambit business: National Consultant (NC). "My next goal is to hit NC within a year," she said. Her sights are set on Ambit's recent expansion to help her. "I plan to reach NC by taking advantage of the Japan market and using social media," she said. There's no goal it seems that can stop Jing from keeping the high notes going in her Ambit business.
Five EC Pieces
My "Why?"
Music
Time spent working my Ambit business:
Full-time in 2017 and 2018
What was your single most-effective Success Tool, factor or influence for growing your business?
Social media
Name your favorite thing about AMBITION:
Motivational speakers
Thanks to the five SCs who helped me reach EC.
JingJing Xu
Qingyan Li
Xiaoqian Liu
Mingdi Yang
Xingxiang Guan
---
Featured Consultant
At Ambit Energy, we're inspired, proud, and even awed by the success stories we hear from our Consultants every day. Learn what motivates some of our top Consultants, read why they decided that Ambit was the right company at the right time, and maybe even pick up some inspiring tips to help you build your own business and achieve a similar level of success!