Singing Ambit's Praises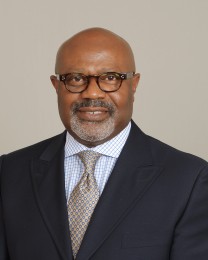 As a pastor and bishop who runs a small ministry, Nathel Johnson has sung for a long time. And now, he's started singing Ambit's praises. "Ambit has changed my life financially and it's happened faster than I expected."
Still, like many Consultants, Nathel was skeptical at first. "I heard about Ambit at a Pastor's meeting. I saw the Presentation, but it sounded too good to be true and I said "no." Eventually, though, he signed up with Ambit to get Free Energy. "I didn't believe the rest," he says.
Today, he sees a brighter future for himself, his wife and his sons. "I hope to have financial freedom, to travel the world with my wife and to never depend on Social Security when I am of retirement age."
Helping Others
One of the things Nathel likes most about Ambit is the way it allows him to help others. "Every time I've promoted, someone else did, too." He also like the way the company does business. "I never knew that character could be built through one simple saying—"Not to trade integrity for growth."
This desire to help other succeed and do business the right way has shaped Nathel's approach to running his Ambit team. "I help my downline by staying in touch and teaching them that people are waiting for us to help them with their electric bill. Promotion is just waiting. I also encourage them to learn all they can about the business by going to meetings, AMBITION and Simulcast."
More Good News
Nathel expects even more good things to happen as he continues his journey with Ambit. "I plan to increase my team training and move into new territory," he says. "I want to find new ways to reach people who have the drive and tenacity to succeed in life, and to build more really good teams."
It's just what we've come to expect from a leader who truly believes in the power of Ambit to change lives.
Five EC Pieces
My/ our "Why?"
The system works, it's that simple.
Time spent working my/ our Ambit business:
Wherever there are people I am always working my Ambit business.
What was your single most-effective Success Tool, factor or influence for growing your business?
Talking to people about Ambit who I thought wouldn't want to hear about it.
Name your favorite thing about AMBITION:
The success stories and the speeches from Co-Founders Jere Thompson and Chris Chambless
Thanks to the five SCs who helped me/ us reach EC.
Paula Dunn
Cheryl Johnson
Estralitta Thompson
Tandy Caraway
Hoil Nunley
---
Featured Consultant
At Ambit Energy, we're inspired, proud, and even awed by the success stories we hear from our Consultants every day. Learn what motivates some of our top Consultants, read why they decided that Ambit was the right company at the right time, and maybe even pick up some inspiring tips to help you build your own business and achieve a similar level of success!